Benjamin Woodward | Apr 18, 2013 | Comments 10
BOSTON, MA – It was an emotional night at the TD Garden on Wednesday evening. One that the city of Boston will not soon forget. The game's opening ceremony and video package, fittingly set to country music star Phillip Phillips' "Home", pulled at the heartstrings of everyone in attendance as images of Monday's horrifying attack was shown on the Jumbo-Tron. It was then that the sellout crowd of 17, 565 stood in unison, belting out each word of the Star – Spangled Banner, displaying an incredible sign of unity and strength. It was a chilling moment in an atmosphere like I've never seen before at a sports event. It was a near-perfect representation of the resilience, strength and fighting spirit of this great city.
"Tough to keep a dry eye after the memorial on the big screen. To hear the crowd singing like that is pretty special. It was great to see the support by the 18,000 or whatever here. It was definitely a different experience but great to see everyone rallying around each other which doesn't surprise you in this city." — Shawn Thornton

"It was incredible. To see how everyone was reacting and watching that video was obviously very emotional for everyone. Your really see why Boston is such a special city. How everyone has come together and really united through all this, and tonight is another example of it. You're around thousands of people you don't know, but it's like we're all one. It was special there tonight and very emotional." – Brad Marchand
Here is a short clip I was able to record of the moment of silence held before puck-drop, followed by the beginning of the National Anthem.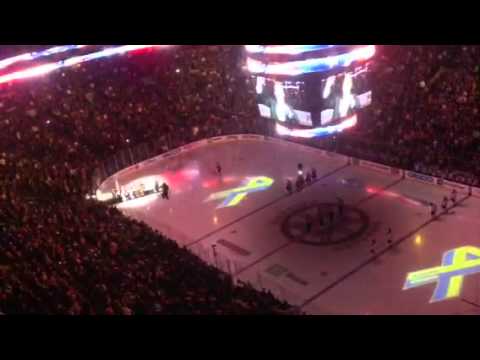 As for the game itself? Well, it's safe to say that things could have turned out a little better. After surrendering a 2-1 lead with just 26 seconds left in regulation, the Bruins would find themselves on the short end of a 3-2 shootout decision.
A pair of goals from Boston's newly-formed third line of Daniel Paille, Chris Kelly, and Nathan Horton would account for the Bruins' entire offensive output, as Sabres' goalie Ryan Miller was brilliant between the crease, stopping 41 of 43 shots faced.
Paille's ninth goal of the season would come off a beautiful centering pass from Kelly early on in the first period, sparking an already vocal crowd just moments after puck-drop. The new-found chemistry between two of the B's most valuable bottom-six forwards is undoubteldy a positive sign heading into the stretch run.
"I thought we went out and played hard. That's what we tried to do and it was a great goal by Piesey (Daniel Paille) and the start we wanted. Yeah, it was nice to score but it's such a small thing, especially on a night like tonight." — Chris Kelly
However, with just 1:40 left on the clock in the opening frame, noted Bruins' killer Thomas Vanek would strike again, redirecting a Christian Ehrhoff wrist shot past Boston netminder Anton Khudobin to even the score at 1.
The B's would go back ahead late in the second period when Kelly fought for his own rebound and was eventually able to jam the puck past Miller for his third tally of the season. From there, the Bruins looked to be in control, holding the Sabres without many prime scoring opportunities for the remainder of the second period and most of the third. The crowd once again erupted into "We are Boston" chants as the seconds began to run off the clock in the game's final minute.
But, in a cruel turn of events, Sabres' top-line pivot Cody Hodgson would beat Zdeno Chara to the front of the Boston net and redirect Vanek's centering pass into the goal with less than half a minute to play in regulation. After a scoreless overtime period,  it would be a Drew Stafford wrist shot goal that sank the B's after all three of the team's shooters where stopped by Ryan Miller.
The win moves the Sabres up to 44 points now, as they continue to fight towards the coveted No. 8 spot in the Eastern Conference. Meanwhile, the overtime point picked up on Wednesday officially secures a playoff spot for the Bruins.
Bruins Extra:
THIS is why we LOVE hockey… 
Each and every day, I am blown away by just how close-knit the hockey family is. So, it shouldn't have been so much of a shock when the Sabres took the ice with the Bruins after Wednesday's game to join them in a stick salute to what was left of the Boston crowd on hand at TD Garden. Now, these are two squads with a rivalry that dates back to before I was even born, one that's even heated up in recent years after the infamous Miller/Lucic incident last season. In this case, that didn't matter. The Sabres knew the situation they were walking into, and they handled it with the utmost amount of class and respect.
"I think nobody had to tell each other to do it. We all just knew that was the thing to do. You got to give kudos to Buffalo, the respect that they showed tonight. And not only from them, but you're going to see it everywhere. We just want to thank them and we want to show that we appreciate everyone coming out tonight." – Brad Marchand
Boston Strong… 
Though the Sabres may have ultimately taken victory on the ice, the real winners tonight, without a doubt, are the incredible people of Boston. The courage of this magnificent city and all of its residents couldn't have been more well-represented than it was tonight. That moment before Wednesday's game was bigger than sports. It was about something far greater than just wins and losses. It was a statement to the cowardly perpetrator(s) of Monday's attack that this city absolutely and wholeheartedly refuses to be terrorized. On the ice, the Bruins created a welcome distraction to those victimized, while providing an outlet for the people of this city to display their incredible unity, toughness and resilience.
Now that, my friends, is far more important than any two points will ever be.
Never before have I been more proud to call myself a Bostonian.
Ben's Three Stars: 
2) Chris Kelly (1 Goal/1 Assist/Plus-2 Rating)

3) Daniel Paille (1 Goal/1 Assist/Plus-2 Rating)

What's Next?: Friday April 19, 2013 – 7:00 PM – vs. Pittsburgh Penguins
Thanks For Reading!
"LIKE" Us On Facebook: HockeyIndependent Bruins
Give Me A Shout On Twitter! : @BWoodward_HI
Filed Under: Boston Bruins • Buffalo Sabres • Eastern Conference • Featured • NHL • NHL Teams • Prospects • Rumors • Satire
About the Author: Boston Bruins writer for Hockey Independent. Michigan Fan. Street Hockey Agitator. My work has been featured at the New England and New York Hockey Journals, The Hockey Guys, and SB Nation Boston. Follow me on Twitter @_BWoodward or shoot me an email at BWoodward.HI@gmail.com!
Comments (10)