Benjamin Woodward | Apr 18, 2012 | Comments 0
WASHINGTON, DC— Throughout the 2011 playoffs, the number one factor in the Boston Bruins' capturing of Lord Stanley's Cup for the first time since Ed Westfall and Derek Sanderson donned the eight-spoked "B" was their incredible depth that spread throughout the roster. Fourth year bench boss Claude Julien's front-line arsenal was stacked with three fully capable scoring lines and a fourth unit that could be relied upon to protect a lead whilst providing a valuable spark of energy for their teammates.
Now in his fifth season with the Black and Gold – and the fifth consecutive year that he's brought playoff hockey to Causeway Street – it appears as if Julien will indeed have that same luxury during the 2012 playoffs.
Through three games of their first round series against the seventh seeded Washington Capitals, the Bruins have amassed a grand total of six goals. Before the series began, if I'd of told you that against such an offensively gifted squad like the Caps, the B's would be up two games to one despite only scoring six goals, you'd have thought I was crazy. Now, if I told you that they would do so with only one tally of contribution from their top six forwards, you'd have thought I'd reached the Tyson Nash level of insane.
Rich Peverley's wrist shot goal in the opening minute of the second period during Monday's game three was in fact the only goal of the series recorded by a Bruins' player currently skating on one of the team's top two offensive units. In most situations, a team with it's top two lines engulfed in such struggles would easily fold from a complete lack of offensive production. But as the Bruins proved throughout last spring and early summer, their bottom six is fully capable of off-setting their stars' struggles even on the grandest of playoff hockey stages.
"It's huge" said winger Brad Marchand of his team's incredible depth.  "That's why we won last year, because our depth guys always stepped up at the right time." – Brad Marchand
"Any time we can chip in, it's a bonus" remarked a humble Brian Rolston after a Wednesday afternoon practice at the Kettler Ice Plex just south of Washington. However, the contributions of both his line (featuring Chris Kelly and Benoit Pouliot) and the fourth unit (Daniel Paille—Gregory Campbell—Shawn Thornton) cannot be undervalued. Their commitment to hard work and solid defensive play, along with their ability to find the score sheet during clutch moments allow coach Julien to expand his playoff bench while most opposing coaches tend to shorten theirs.
"If the top two lines aren't scoring and the bottom two are, it really makes a big difference. That's why we're such a tough team to play against, because we have that overall depth and lots of guys stepping up at the right time." – Brad Marchand
If the Bruins are to advance past the first round for the fourth consecutive campaign and make a legitimate attempt to defend their championship, it's fairly obvious to assume that they will need significant offensive contributions from the top forwards that they've relied on all season long. If the likes of Milan Lucic, David Krejci and Tyler Seguin are to find their stride this postseason, the Bruins will once again possess the deepest and most versatile forward core in the National Hockey League.
–> Here's a look at Bruins head coach Claude Julien's press conference from this morning after the Bruins had a full practice at the Capitals' training center in Arlington, Virginia.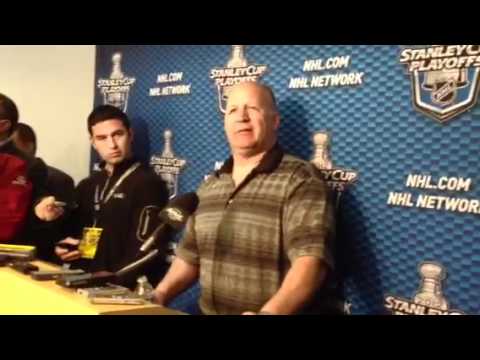 Thanks For Reading!

"LIKE" Us On Facebook: HockeyIndependent Bruins
Give Me A Shout On Twitter! : @BWoodward_HI
Or You Can E-Mail Me At BWoodward.HI@gmail.com
Filed Under: Boston Bruins • Eastern Conference • Featured • NHL • NHL Teams • Washington Capitals
About the Author: Boston Bruins writer for Hockey Independent. Have written for The Hockey Guys and SB Nation Boston. Follow me on Twitter @_BWoodward or shoot me an email at BWoodward.HI@gmail.com.
Comments (0)