Benjamin Woodward | Jan 13, 2012 | Comments 1
In any sport, it's normal for a team to make trades. For a variety of reasons, trades are used to help build franchises. Nothing out of the ordinary, right?
Well, what made the Montreal Canadiens' trade of top line winger Michael Cammalleri so different was the fact that he was traded during the second intermission of a one-goal inter-division game!
It all started early in the second period on Thursday with an oddly secretive looking group of Montreal management huddled outside their suite in the TD Garden press box. At first glance, one would have thought nothing of it. In fact, it even lead me to cracking a few lighthearted jokes via Twitter.  However, it was early in the third and final frame that things began to get interesting, as the 5'9″ Ontario native was noticeably missing from the Habs' bench, with no reports of injuries sustained. This coupled with the knowledge of Wednesday's comments made by Cammalleri, in which he questioned the collective mindset of his Canadiens' team, and it was enough to get some folks thinking that the proverbial shoe was about to drop.
"I can't accept that we will display a losing attitude as we're doing this year. We prepare for our games like losers. We play like losers. So it's no wonder why we lose." – Michael Cammalleri
Reports upstairs then broke the news that Cammalleri had indeed been removed from the game and had been sent to a Boston hotel to wait for further instructions. As if this wasn't enough to tip anyone off about a potential deal, word from TSN in Canada began to emanate the fact that the undersized forward had indeed been traded. It was then that the game concluded, with the host Bruins holding on for a 2-1 victory over the Habs, and every reporter in Boston made a bee line for the Montreal dressing room.
While questions about the game were asked here and there, the elephant in the room was clearly the Habs' missing first liner. Unfortunately for the large contingent of reporters and beat writers, Montreal players were just as confused as we were.
"Was he traded?  I really don't know.  This is the first time this has happened to me?" – Tomas Plekanec

"I don't really know anything so I don't have a comment right now." – Hal Gill

"I don't know if it (a trade) has happened I can't give much insight.  I can't really give an opinion." – Carey Price
It was then, as the media scrum descended on head coach Randy Cunneyworth's press conference that he revealed the fact that there was in fact a trade that had sent Michael Cammalleri out of Montreal. "Well, obviously there was a trade made" said Cunneyworth when asked about the absence of his first line left winger. The much-criticized interim bench boss went on to explain how he had only learned of the deal at the start of the third period, and that his players where left in the dark completely as to the whereabouts of their teammate.
Finally, as the swarm of media members were consumed by the ever-growing TwitterSphere, trying to be the first to report the trade's details, we learned that Cammalleri had been dealt cross country, back to Calgary — a city where he played in 2008 and 2009–.
Ending all the hype and confusion  was Habs' General Manager Pierre Gauthier, when he stood in front of the aformentioned sea of reporters and delivered the news of the deal, first in French and then repeated himself in English. The English portion of the press conference can be viewed in it's entirety via the video below.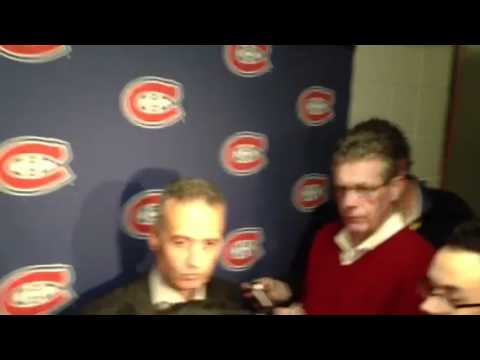 Along with Cammalleri, the Canadiens forfeited the rights to European netminder Karri Ramo and a fifth round pick in the 2012 Entry Draft in exchange for currently-suspended winger Rene Bourque, prospect Patrick Holland and a second round selection in the 2012 Entry draft.
Now, I'll leave the analysis of this deal to those folks who are closer to the situation and know more about the skills and tendencies of each of these players. However, I would just like to point out this little doozie of a quote, courtesy of the Calgary Flames official Twitter account:
"I might be in trouble… I don't speak French, even if I have the most French name on that team." – Rene Bouque
Well there you have it folks, a first hand account of the first ever mid-game trade in NHL history. On what was once thought of as an uneventful night and a boring game between two once-fierce rivals, history was indeed made. It just goes to show, you really never know what is going to happen next in the National Hockey League.
Thanks For Reading!

"LIKE" Us On Facebook: HockeyIndependent Bruins
Give Me A Shout On Twitter! : @BWoodward_HI
Or You Can E-Mail Me At BWoodward.HI@gmail.com
Filed Under: Boston Bruins • Calgary Flames • Eastern Conference • Featured • Montreal Canadiens • NHL • NHL Teams • Western Conference
About the Author: Boston Bruins writer for Hockey Independent. Michigan Fan. Street Hockey Agitator. My work has been featured at the New England and New York Hockey Journals, The Hockey Guys, and SB Nation Boston. Follow me on Twitter @_BWoodward or shoot me an email at BWoodward.HI@gmail.com!
Comments (1)