Benjamin Woodward | Jan 08, 2012 | Comments 6
On Saturday afternoon, in front of a 17, 565 sellout at TD Garden and a nationally televised audience courtesy of NHL Network, perhaps one of the most poorly and hastily made penalty calls of the season was made late in the second period of the highly anticipated Bruins and Canucks Stanley Cup Finals rematch.
It was at the 18:47 mark of the second frame that Canucks' defenseman Sami Salo took a run at agitating Bruins' forward Brad Marchand. Vancouver's veteran Finnish defenseman took a five step run at Marchand from the blueline in an attempt to keep the play in the Boston zone. On instinct, the 5'8″ Marchand ducked the hit, and subsequently flipped Salo over his back. Unfortunately for Salo, it appeared as if he was injured on the play, as he immediately left the ice and did not return for the balance of the game. The hit can be viewed in the video below.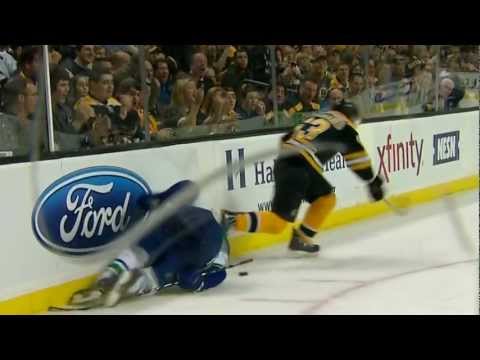 Using the only natural advantage he has, no. 63 reaped the benefits of his small stature by avoiding what could have been a lethal hit from Salo. If you take a closer look at the replay, it's clear that Salo had picked up steam in charging from the blueline and was leading with his elbow as he approached Marchand. Instinctively, Marchand went low to the ice to avoid taking a hit up high. In any case, it's impossible to argument with a player taking action to protect himself from injury.  The travesty here is that the Bruins' winger was not only issued a five minute major for "clipping", he was also stuck with a game misconduct, resulting in ejection from the game.The fact is, Salo paid the price, in the form of his own concussion, for taking a run at a player he didn't think would be craft enough to avoid the hit.
What's worse? The Canucks' scored their final two goals, including the game winner, during the ensuing five minute power-play.
Throughout the length of his young career, the B's sophomore winger has been known to "toe the line" of getting under his opponent's skin and taking things too far. However, head coach Claude Julien seemed to have no issues with the way no. 63 handled himself during the incident in question.
"I always told my players that they need to protect themselves" said Boston bench boss Claude Julien of Marchand's alleged "clipping" attempt against Salo. Julien went on to point out how he would expect the league to be accommodating of players attempting to avoid being added to the seemingly never-ending list of players sidelined with concussions.
"The last thing I want my players to do is get hit and then end up with a concussion, and they have to protect themselves. Whether it's the right way or the wrong way, it'll depend on how the league looks at it. I'd rather have a guy take a two-minute penalty than turn his back to the play, stand up straight, and then get his face knocked into the glass and be out for maybe the rest of the year with a concussion, or maybe end his career like (Marc) Savard. So I think we have to really look at those kinds of things. In my opinion, if guys start protecting themselves the way Marchand did, maybe guys will stop taking runs at other guys because that's the consequences you end up paying for taking runs at guys, too." – Claude Julien
In this case, the B's fifth year head coach is 110% correct. Faced with a decision to take a hit up high, or protect yourself in any way you can, the choice seems fairly obvious to any coherent individual. Especially in a league that has been absolutely decimated by concussions and head injuries.
Furthermore, early whispers from downstairs at TD Garden yesterday said that they may already be expecting NHL Discipline czar Brendan Shanahan to suspend Marchand for the incident.
Now, as news breaks this afternoon, no. 63 will indeed face a disciplinary hearing with Shanahan on Monday afternoon via conference call.
In this situation, I see no way anyone can justify any sort of suspension for Marchand, who was simply trying to protect himself from injury and what looked to be a run at the head by Sami Salo. In many ways, the hit also resembled Dan Hamhuis' hit on Milan Lucic during last year's Cup Finals, that rendered no supplementary discipline whatsoever for the Vancouver blueliner.
The bottom line is this: How can a league that consistently preaches the importance of limiting concussions penalize or even suspend a player who takes action to prevent it from happening to himself?
Answer? Amidst rampant talks of how to eliminate the impact of concussions in the sport, a suspension for Marchand would simply reek of hypocrisy and do nothing but damage the credibility of a league still trying to repair it's (sometimes unfair) image of violence and hostility.
Thanks For Reading!

"LIKE" Us On Facebook: HockeyIndependent Bruins
Give Me A Shout On Twitter! : @BWoodward_HI
Or You Can E-Mail Me At BWoodward.HI@gmail.com
Filed Under: Boston Bruins • Eastern Conference • Featured • NHL • NHL Teams • Vancouver Canucks • Western Conference
About the Author: Boston Bruins writer for Hockey Independent. Michigan Fan. Street Hockey Agitator. My work has been featured at the New England and New York Hockey Journals, The Hockey Guys, and SB Nation Boston. Follow me on Twitter @_BWoodward or shoot me an email at BWoodward.HI@gmail.com!
Comments (6)