Ty Anderson | Mar 02, 2010 | Comments 0
If you were looking for that big blue-line changing defensemen to aid the Bruins in 2009-10, you're still out of luck. Just under 24 hours away from the trading deadline, the Boston Bruins have announced that they've acquired the negotiation rights to University of Michigan defensemen Steve Kampfer from the Anaheim Ducks in exchange for a fourth round pick.
The 21-year old Ann Arbour, Michigan native is in his fourth season with the Wolverines and has 17 points in 37 games this season. Anaheim's fourth round selection in the 2007 NHL Draft, Kampfer has seen his name more involved for controversial incidents' more than his on-ice accomplishments.
On January 26th, 2009, in a game between the rivaled Michigan State Spartans and Michigan Wolverines, Kampfer executed a clean open ice hit on Corey Tropp when Andrew Conboy took exception and chased down Kampfer, delivering a forceful knock to the head of Kampfer. Generating controversy, the incident with the 5'11″ Kampfer was perhaps magnified by the fact that it happened in the same season that saw the Wolverines defensemen get a fractured skull in an incident with a member of the Mighigan football team.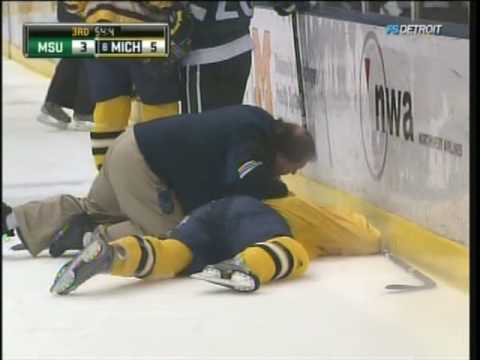 Looking at the deal as of right now, it just adds another undersized defensemen to the Bruins' system. Kampfer doesn't appear to be the puck-moving defensemen of tomorrow, but has ties to Boston through fellow blue-liner Matt Hunwick, a teammate of his at the University of Michigan. However, this deal could be creating a plethora of defensively sound blue-liners for the Providence Bruins in 2010-11 with the expected signing of guys such as Yuri Alexandrov, and perhaps Ryan Button.
However, for the bulk of Bruins fans, this trade means nothing in the now and is just adding to their growing ire with Bruins G.M Peter Chiarelli, who has been inactive in the trade department since October 20th's trade for Daniel Paille.
—————————————————————————
Follow Me If You Want To Live: Follow me on Twitter!

"I'll Facebook You!": Add the new HockeyIndependent Bruins Facebook profile today!

Filed Under: Boston Bruins • Eastern Conference • NHL • NHL Teams • Prospects
About the Author: Ty Anderson ran the Chronicles From The Garden blogspot account during the 2008-09 NHL season before joining HockeyIndependent as the Bruins Blogger. He is a Seinfeld enthusiast, self-admitted Star Wars nerd, Vezina-quality street-hockey goaltender, and can be found in Balcony 314 of every Bruins home game. Follow him and his tweeting madness on Twitter at http://Twitter.com/_TyAnderson or send him an e-mail at TAndersonBruins@gmail.com.
Comments (0)