Tyler J. Cameron | Mar 23, 2014 | Comments 10
It's been a Canadian Gold Medal, a Brandon Pirri trade and a Patrick Kane injury since I last blogged. Well those high/low-lights, among others, have been analyzed and over-analyzed by fans over the past weeks as the Blackhawks head into the playoffs.
A lot of has happened but I won't focus too much on the past. Let's look at where the Hawks are and where they potentially could be going.
Where are they tonight? Well, Toews & Co. are currently preparing for their game tonight vs. the Nashville Predators. They are entering tonight's game on a, what seems to be an unfamiliar feeling, of a 2 game winning streak. A couple of nice victories against the Blues and the Hurricanes.
Victor Stalberg and the Nashville Predators come into town with 70 points, 9 out of a playoff spot. They'll be hungry. Luckily for them, they won't have to face the inevitable force that is Tuevo Teravainen!
I won't get too much more into the game, as the reason for my hiatus was to revamp my blog to offer a new and exciting perspective on your beloved Blackhawks. I know some of you are like me and have an extremely short attention span. I know some of you even put up with my Blackhawks updates just to obtain my insightful NHL nuggets as well. Most importantly, I know most of you just flat out love the game of hockey and are always craving puck content.
All of this was taking into account when giving this blog a little facelift. I will always have a main thought or argument to start off. After that, I will roll into reoccurring sub-headers. These sub-headers may not be included in every blog, but when relevant, you'll see them pop up.
Looking forward to hearing feedback and your comments. I'll be blogging fast and furious as the Hawks look to right the ship heading into the playoffs.
Without further ado:

This segment will surely involve the most talked about topic at your local water cooler or in your weekly rec league dressing room. It is a hockey headline you're sick of hearing and/or talking about. I will cover not only Blackhawks, but NHL events as well.
Today's most overrated/what I'm sick of listening to is Mr. Teuvo Teravainen. Firstly, I want this on the record, that it's not that I don't think that TT will be successful in the NHL. I actually think the opposite. I am merely sick of listening to the media and certain fans letting their lofty expectations for a 19 year old kid to take over as the Blackhawks latest saviour.
I think it would be a mistake to let him play more than 9 games and burn through the first year of his 925k contract. Sure, the Hawks have struggled in the back half of this season, but they have the pieces to make another long run and putting their faith in a kid who has yet to play a game in the NHL is just flat out silly.
Does anyone think Jonathan Toews and Brent Seabrook are high school girl gitty about TT joining this team? "FIN-ALLY" they are probably saying to themselves. "NOW we are ready to repeat as Champions." Pffff, not a chance.
Even though Stan Bowman has said that Teravainen's contract will not effect how and when they'll use him, think about how Coach Q handles his young players. It's not that he doesn't use them in important situations (ie. Saad, Shaw, etc) but he will only play 2-way savvy rookies and let them earn their ice time with their overall game. If TT can show strong tendencies towards an all round responsible game, then we'll see where that takes him.
The path to TT's career, will not start tonight, Coach Q says possibly Tuesday. When he plays, how will you be judging? What are your early expectations?
This segment is polar opposite to the one above. This is the underrated topic that people rarely speak of, but have potential for major impact.
This episode features a stat that I haven't heard anyone talk about this year. Well, maybe there were a few muttering this year. Thank you Yanic Perreault for making this my underrated subject. How many times over the past few years have the Hawks fans cried for another faceoff specialist outside of their Captain. John Madden would have been the last one. Handzus was brought in last year and helped, but this year is barely above average at 49%.
Young Marcus Kruger is the keg cog in this improvement. Believe it or not, he is the Hawks best faceoff man at 57%, slightly above Toews (56%). Sharp is at 57%, at a much lower sample size. Ben Smith and Peter Regin have been solid as of late. Andrew Shaw is a lost cause in that department, but he may find himself on the wing come playoff time anyway.
So 3 cheers for Yanic Perreault, the Hawks Faceoff Specialist who have them clipping at a good rate in this ever important facet of the game. Hip-Hip-Hooray! Hip-Hip-Hooray! Hip-Hip-Hooray!
This On the Interweb segment is going to focus on the top stories, tweets, facebook posts that I find for the blog. It could be from players, agents and/or fans to contribute to this portion.
This week focuses on two great stories – very touching stuff (if you don't feel something in and around your heart area, you suck!):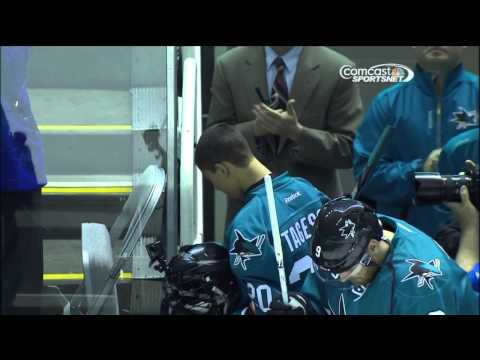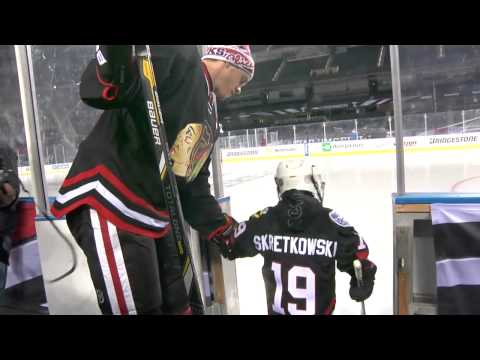 This piece will feature certain companies and people that highlight why Hockey is the best sport in the world.
I will have an upcoming segment on a company called ProHockeyIQ which is helping coordinate players overseas. It's a much needed aid that ProHockeyIQ provided to players connect with teams that are otherwise, difficult to get in touch with. More to come!
Ty's Tidbits were a staple from my previous blog and now just have a snazzy photo of me playing road hockey.
This week's tidbits:
~ Brandon Saad will play tonight. An arms wide open return to #20 as the Hawks have been short-handed with Kane, Bickell and the young winger out of the lineup last game.
~ Blackhawks signed free agent forward Matt Carey out of St. Lawrence University. Coach Q says, "He looks like a nice player." He is not eligible to play in the playoffs, but like LeBlanc last year, might get in a game or two.
~ Bryan Bickell remains out as well. This is a shame because he looked like he was gearing up to be "Playoffs Bryan Bickell" with his tenacity and ability to make plays happen. Coach Q is surely hoping he picks up where he left off.
~ David Rundblad looks to be a solid pick up. For those saying that he could potentially replace Leddy (or better yet, Oduya) next year, think again. In terms of skill he's a much different play and the only thing he would be replacing are the minutes. He is a bit bigger, can lay some hits and make a nice outlet pass however. He could be a nice 6th/7th d-man next year. Also, adds great depth for the playoffs.
That's it, that's all folks. As always, appreciate the support and feedback. See ya on the message board!
@tycam out!
Filed Under: Chicago Blackhawks • NHL
About the Author: I am a rare Chicago Blackhawks fan from Canada, one might describe me as a hockey connoisseur and a solid checking line centre to your local rec hockey team. I once lived in a town of 500 people and now work in the hockey mecca that is Toronto. I work in the wonderful world of Advertising and these opinions are one of my own and not of my company - don't get it twisted.
Comments (10)