Tyler J. Cameron | Feb 17, 2013 | Comments 2
Jonathan Toews finally stood up to the bully and said NO! This ended the way most of these schoolyard altercations do, with the smaller "victim" on the ground waiting for someone to jump in. On the other side, I believe it has left the bully questioning a lot.
Joe Thorton and Jonathan Toews shared a memory of winning a gold medal together in 2010 that neither will forget. Toews also has not forgotten the constant annual beating that Jumbo Joe participates in (… and gets away with) when the Blackhawks and Sharks get together.
Regardless on whether these two leave it all on the ice or if Toews still wants to Nancy Kerrigan him in the parking lot, he did something that he felt was necessary: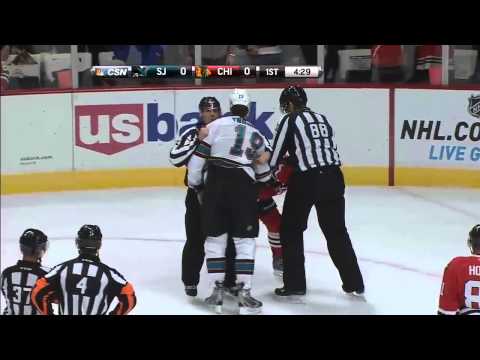 Courtesy of HockeyVideoHD
As I've said all year, the Hawks need to get a little tougher upfront. I still agree, but I also thoroughly enjoyed last game seeing Brookbank mix it up with Burish after multiple whistles, Brian Bickell AND Patrick Sharp drop the mitts without reservation.
Did Toews' fight make them all feel 2 feet taller? Probably. But it also looks like this team has a little more willingness to provide a "Team Toughness" mentality rather than looking around for John Scott (I'll give you a hint, he was on the bench… or in the press box).
It'll be interesting to see if the Blackhawks can keep flexing those muscles for an extended period of time. The next test is against the LA Kings team, who are hungry to recover some wins and get back to their winning ways. Their captain, Dustin Brown does not shy away from the physical play… pssss… Toews, just stick to hockey today.
Let's take a look at other examples of Captains with their own too much heart moments.  These are admirable moments from unsuspecting soldiers throughout the years in attempts to show their team why they wear that "C" on their chest.
1) Sidney Crosby vs. Claude Giroux: It was a battle that neither of these leaders were willing to give an inch of ground in. I have a feeling Crosby and Giroux will have many more wars in the future.
2) Mario Lemieux: Mario had enough and showed poor Todd Krygier that he's more than just a pretty face on his NHL Superstar trading cards.
3) Joe Sakic vs. Doug Gilmour: This is an example of a feisty leader in Gilmour being caught off guard by a more timid and "lead by example" Captain, in Joe Sakic.
Courtesy of HockeyFights.com
We shouldn't be too surprised when incidents like this happen due to the competitive stature of these gentlemen. Post in the comment feed if you have any other fights like this.
Ty's Tidbits
~ Corey Crawford is suffering from an upper-body injury which some believe is a concussion. The way the Hawks are playing, the timing is as good as it could be to have their starter suffer an injury. Ray Emery has also created a lot of stability between the pipes after that shaky first start.
~ I tweeted the other day, the Hawks are 23-2-7 in the regular season since acquiring Oduya. Their most recent opponent, the Sharks are 3-4-3 with Scott Gomez in the lineup. Is there any correlation to this move to bring Gomez in? I think not, he's actually looked like one of their better players since joining, it just seemed like strange timing considering they started off so hot.
~ Growing up in Canada, hockey is instilled in us at a very young age; it became our religion. As I watch Hockey Day in America, there are some inspiring stories on how there is a heavier focus on youth hockey programs. This development has been evident, look no further than the World Junior Championship in January.
Ty Cam out!
@tycam
Filed Under: Chicago Blackhawks
About the Author: I am a rare Chicago Blackhawks fan from Canada, one might describe me as a hockey connoisseur and a solid checking line centre to your local rec hockey team. I once lived in a town of 500 people and now work in the hockey mecca that is Toronto. I work in the wonderful world of Advertising and these opinions are one of my own and not of my company - don't get it twisted.
Comments (2)