Kevin Vanstone | Feb 24, 2011 | Comments 3
To trade or not to trade, that is the question facing GM Mike Gillis in what has become one of the more interesting weeks on the NHL calendar. As the days count down to the trade deadline, what will the general manager do? With so little cap space at his disposal, Gillis is partially limited in what types of deals he can pull off, however with his team leading the NHL with a five point cushion over the rest of the Western Conference; does GM MG really need to make a move? And if so, what exactly do the Canucks need?
Sitting 2nd overall in league scoring, the Canucks most certainly are not looking to add that extra offensive talent, the team has it in spades.
On the blueline, the Canucks injury woes have pushed the organization's defensive depth to the limit. But the worst is over, with Dan Hamhuis and Keith Ballard back in the fold, and Kevin Bieksa and Andrew Alberts hoping to make their return before playoffs, the team appears to have survived a fragile February. Alex Edler will be sorely missed down the stretch, but the team has long since come to terms with the occupational hazards of hockey.
It is in dealing with those hazards that Mike Gillis believes will add an extra degree of toughness and resiliency to his team.
From Iain McIntyre of the Vancouver Sun:
"How you deal with adversity and whether you continue to find ways to win are very important things that you build on throughout the course of a season," Gillis said.
"I think what happens when you get into the playoffs having gone through that, you're much better positioned to deal with things that come your way. This is a much stronger team than we had, top to bottom, the last couple of years. I think it's a number of different factors, not just one. But I do have a different sense about this team now than I've ever had before."
So, if Gillis isn't shopping for defenceman with scouts watching a variety of NHL games, what exactly are the Canucks looking for? Having generated a season's worth of chemistry across the top three lines, the Canucks fourth line stands alone as the only potential cause for concern. All due respect to fourth line regular Tanner Glass, the Canucks simply don't have the size and toughness necessary to go to war and come out alive. And make no mistake, that's what an NHL playoff game is, war.
Remember Dave Bolland carving up the Sedins calves without threat of retaliation? Remember how Dustin Byfuglien waltzed through Roberto Luongo's crease as if it were his own private dance floor? Teams are sure to have taken notice, and will be giving the Canucks a rough ride every chance they get this post season. Much like Ben Eager in Chicago last season, the Canucks need an enforcer, a bruiser, a do-whatever-it-takes-major-penalties-be-damned player to keep the opposition in check, and keep the Sedins and company focused on scoring goals rather than their own safety.
The following players can do just that, while keeping the Canucks salary cap piggy bank intact.
Zenon Konopka – C – New York Islanders – $600,000 cap hit, pending UFA.
Konopka leads the league in penalty minutes (219) and is an ace in the faceoff circle, winning 57.3% of his draws. At 6'0" Konopka is no giant, however his toughness is unquestionable. Not only can he get in the minds of the opposition with his mouth, but his fists can make quite the statement as well.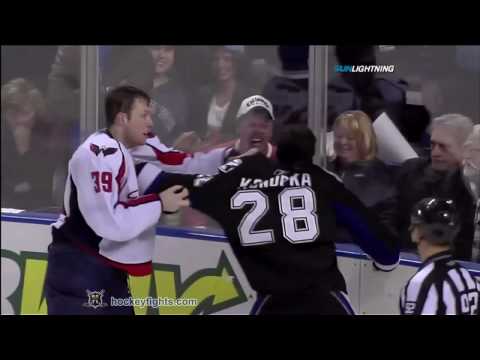 Gives up five inches to Steckel without missing a beat, and he even has the guts to take his bucket off pre-fight, Konopka can play on my team any day.
Matt Carkner – D – Ottawa Senators – $700,000 cap hit, signed through 2011-12.
Yes readers I am aware that Carkner is indeed a defenceman, but I am also aware that Carkner has played some forward in his day and above all else is one big, bad man on skates. Given the chance another defenceman could go down to injury in the future, Carkner's ability to play both as a defenceman and as a fourth line forward could come handy down the stretch. At 6'4" and 238 pounds, Carkner is a wrecking ball, just ask Mr. Scrabble.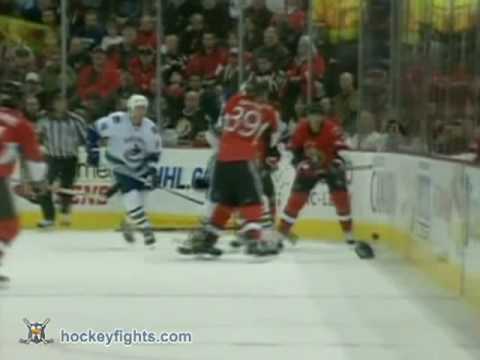 You don't need a high-def feed to see there are forth line tough guys, and then there are fourth line enforcers. Tanner Glass is the former, Matt Carkner as you just saw, is the latter.
Wade Belak – RW – Nashville Predators – $575,000 cap hit, pending UFA.
While his stint in Nashville seems to have choked the life out of his once exciting career, Belak's body of work in Toronto remains fresh in my mind. He was a team player, he was a character in the room, and most importantly he backed up his teammates on the ice. In Nashville, Belak has been reduced to a minimal role, playing less than five minutes a game in all but two of his 15 games played this season.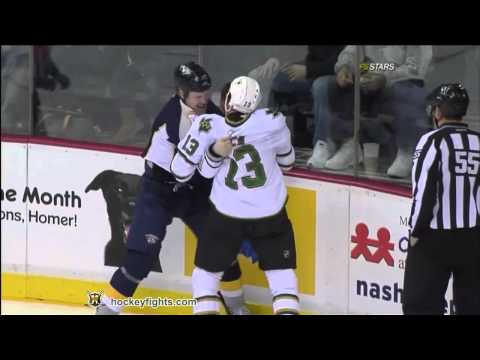 At 34, Belak has still got what it takes, and the presence of a veteran is never a bad thing.
Cam Janssen – RW – St. Louis Blues – $600,000 cap hit, pending UFA.
Similarly to Belak, Janssen seems to have been reduced to a minimal role in St. Louis. While I don't expect either player would enjoy large minutes in Vancouver, being part of a cup contending team could summon a real energy from deep within the relatively dormant enforcers.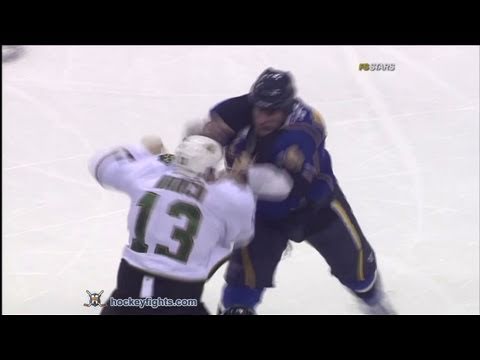 1 minute 13 seconds of pure battle, effort like that is contagious.
Affordable NHL grit is available to those who desire it. Will Mike Gillis attempt to toughen the lineup in the absence of Rick Rypien (Get well soon, Rick) or will Gillis stand pat, offering a vote of confidence to his players and staff? Both are noble avenues of which to take towards the playoffs, but which will lead to the Stanley Cup?
The decision comes Monday, Noon Pacific Time. The results will be debated for quite some time.
For real time Canucks trade deadline information, updates, analysis and commentary follow me on Twitter @PuckheadKvan.
Filed Under: Vancouver Canucks
About the Author: Kevin Vanstone is a long time sports fan and Canucks die hard from White Rock, British Columbia. He is currently attending the University of Victoria pursuing a Writing degree, and in his spare time writes about all things Canucks hockey as well as news and notes from around the NHL.
Comments (3)