Kevin Vanstone | Jul 28, 2010 | Comments 1
On the ice, Mason Raymond uses speed and skill to navigate around opponents; Mike Gillis takes a different approach.
In a final effort to sign the speedster Raymond, Mike Gillis flew from Vancouver to Toronto in order to come to a contract agreement with the 24 year old Cochrane, Alberta native.
After weeks without talk between the two sides, Canucks management met with Raymond and agent J.P. Barry over the weekend to come to an agreement and avoid an arbitration process that neither side was looking forward to.
Finally, after negotiating on Sunday, Raymond and the Canucks came to an agreement just minutes before the arbitration hearing was to be heard in Toronto on Monday morning.
Raymond will make $5.1-million over the next two seasons, hitting the Canucks with a $2.55-million cap number. That number had the potential to be much higher given the slew of comparable players at the disposal of agent J.P. Barry.
As I tweeted last week, Ryan Clowe ($3.625-million cap hit) was an easy comparable for agent J.P. Barry to turn into a big contract for his client, however other comparables like Ryan Callahan ($2.3-million cap hit) gave the Canucks a strong response.
In the end, signing Raymond for only two years gives him the ability to find the big money he's earned, while keeping the cap hit reasonable for the Canucks who would have been in deep trouble if the arbitrator found highly in Raymond's favour.
Even better for the Canucks: Raymond will still be a restricted free agent at the end of this new deal, allowing the Canucks some protection from other GM's come 2013.
It's a great deal for both sides, the Canucks have two more years with the speed of Raymond at their disposal, and the cap hit won't sink the ship.
Well done Gillis, and congrats, May-ray.
Ballin' Out of Control
If it wasn't enough that the man may have sacrificed half of his manhood last season, Sami Salo has fallen victim to another injury to add to the piling number of incidences for the notoriously fragile Fin.
After Michael Grabner (Too Soon?) severely injured his ankle last season playing soccer in warm up with other Canucks last season, it seemed the hockey gods had fulfilled their bounty with the Vancouver Canucks; however the organization has been thrown another curveball with the latest Salo setback.
Such is the amazing fragility of Sami "Handle with Care" Salo.
Don't even get me started on Kevin Bieksa's unlucky streak either.
While playing "Floorball" (a fast paced version of floor hockey played with slightly altered sticks and equipment played by many other NHL'ers like John Tavares, Victor Hedman, Henrik and Daniel Sedin, and more )Sami Salo was able to rupture his Achilles tendon, setting himself back at least 3 months and possibly much more given his age and injury history.
Even the frail kids in my P.E. class managed to keep from even one serious injury over the years, leave it to Salo to allowing further questioning into dangerous off season activities of Canucks players.
With Salo now out for an extended period of time, fellow defenseman Kevin Bieksa may have found his "Kyle Wellwood moment" last chance to stay with the club and prove himself and his contract should stay in the Pacific North West.
While Sami Salo may be put on the long-term injury reserve, the Canucks are only eligible for LTIR cap relief if replacing Salo's salary pushes the Canuck's cap payroll over the cap.
From Capgeek.com's FAQ
"Just because a player is on LTIR does not automatically grant the team extra cap space. In the event a player is placed on LTIR, his cap hit still counts toward the team's overall cap payroll. Relief only comes if replacing the player's salary pushes the team's cap payroll to date over the cap. The amount of relief is limited to the amount the team has gone over the cap, not the entire amount of the injured player's salary"
For the unaware, Capgeek is a site dedicated to all things NHL salary cap, do yourself a big favour and check it out.
For what it's worth, I still believe Bieksa should be moved. The Canucks can't afford his salary, and will need some wiggle room down the road (remember the Flames nightmare seasons ago?) or even to add another player at the deadline, all in all, it's time to part with the likeable guy they call "Juice".
With Bieksa and the newly re-signed Mason Raymond on the books, the Canucks sit $2,656,333-million above the cap. Bieksa's $3.75 cap hit simply doesn't fit on the roster any longer. Too bad, Bieksa was once my favourite Canuck.
News and Notes
The Canucks have also come to terms with forward Mario Bliznak.
Disallowed goals, the new hotness in NHL 11? NHL just doesn't stop getting more and more realistic year after year, love it.
North American sports arenas aren't exactly the cleanest place to grab a bite. Canadian venues proved much cleanlier than their American counterparts, but can you guess where the building formerly known as GM Place stood amongst the competition in ESPN's report?
Tanner Glass: Soccer fan, Not exactly a fan of those damn Vuvuzelas however.
Max Talbot: NOT a fan of Alexander Ovechkin. "He's a real douche". Yeah, like that rivalry needed more gasoline on the fire.
Jason Botchford believes that Sami Salo's injury woes have worn out their welcome, I agree. Hockey and fragility don't mix.
This is far too late, however Puck Daddy's best of 2009-2010 hockey pugilism is a must for hockey fans in favour of a little violence. "Most Old-School Moment" was given to the Canucks and Rangers brawl from November 9th, 2009 that featured Sean Avery's usual antics.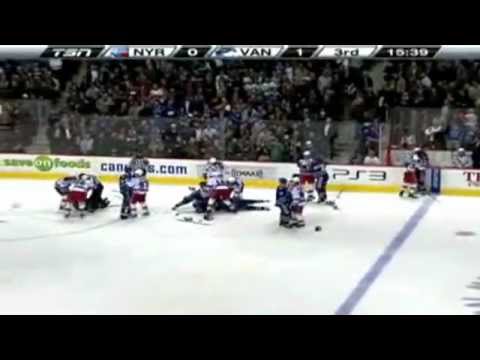 And look who is right in the middle of things, atta boy Kev.
Filed Under: NHL • Vancouver Canucks
About the Author: Kevin Vanstone is a long time sports fan and Canucks die hard from White Rock, British Columbia. He is currently attending the University of Victoria pursuing a Writing degree, and in his spare time writes about all things Canucks hockey as well as news and notes from around the NHL.
Comments (1)