Kevin Vanstone | Jul 01, 2010 | Comments 1
Mike Gillis sure is a man of action isn't he?
While Gillis may not have the style and swagger of notorious past Canuck GM Brian Burke, however Gillis proved he is not afraid to make a move on draft day.
Minutes before the draft began, a deal had been made (contingent on Jarred Tinordi and Beau Bennett being taken before the Canucks draft position) for the Canucks to send their 1st round pick, Steve Bernier and Michael Grabner to the Florida Panthers in exchange for Keith Ballard and Victor Oreskovich.
After twenty four first round picks, Taylor Hall (1), Tyler Seguin (2), and eventually both Bennett (20) and Tinordi (22) had been selected by their respective teams. Taylor took round one over Tyler, the Canucks and Panthers had a deal and the Panthers were on the clock, but the fiery debate had already begun, and Ballard wasn't even the center of attention.
While the giving away of the first round pick and Steve "Hands of Stone" Bernier (it feels so good to say it now) was justified, the loss of Michael Grabner has obviously frustrated many Canucks fans who saw the flashes of speed and skill Grabner displayed last season.
According to Gillis, Grabner has become redundant behind the ever immerging speed and skill of Mason Raymond, who had earned time on the Canucks second line for a good chunk of last season.
Ballard, on the other hand is "a puck-moving, skilled defenceman." According to Gillis who believed the thin unrestricted free agent pool was enough to warrant the addition of Ballard before the hockey's second Christmas on July 1st.
Personally, I believe losing Grabner is a mistake, I believe he has the talent to become a very solid NHL forward, very comparable to previously mentioned Mason Raymond, however Grabner is a few years behind Raymond in developmental terms and the price was right for Keith Ballard and Victor Oreskovich, so Gillis pulled the trigger.
All in all, I defer to the wisdom of Mike Gillis when rating Ballard, Oreskovich and the trade as a whole. It seems both Ballard and Oreskovich are under-rated in the eyes of Gillis, just as some may remember Mikael Samuelsson and Christian Ehrhoff were last summer. If Ballard turns out to be anywhere near as successful as Gillis' previous additions, he will be a welcome member of the Canucks.
Orrrrrrr if he plays anything like that, on a consistent basis.
Day 2
After making a splash on day one, Gillis and his team were back at the table in Los Angeles to finish the remaining rounds of the NHL draft. Without a 1st, 2nd, or 3rd round pick, Gillis had to wait until the 4th round and the 115th overall pick to select defenceman Patrick McNally.
Following McNally are fellow defenceman Adam Polasek (145) and Sawyer Hannay (205), Center Alex Friesen (172) and goaltender Jonatahn Iilahti.
While five picks sure isn't a lot of re-stocking, Gillis additions on draft day will be debated for some time before we know which picks will develop to be effective Vancouver Canucks.
"We're Not Done Yet"
Mike Gillis' words on draft day are very straight forward, the Canucks GM still needs to add more pieces to his team, and there is still much work to be done. Tomorrow beginning at 9AM Pacific the NHL's Unrestricted Free Agents will be free to sign wherever they like and Mike Gillis will be in on the mad scramble to land the most sought after players.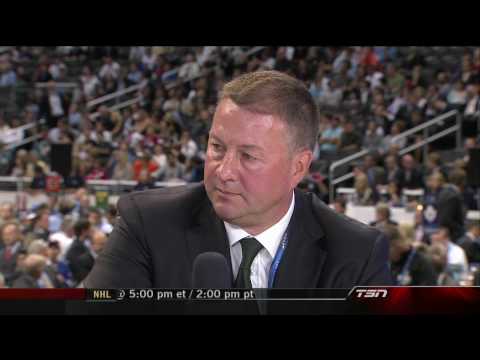 With more cell phones than Ari Gold, Mike Gillis needs to be able to land a Vincent Chase like client tomorrow, with the names of Hamhuis, Volchenkov, Martin and the infamous Ilya Kovalchuk on the market; Gillis should be busy come Canada Day.
Of all the free agents available, Dan Hamhuis seems most likely to sign a deal with the Canucks tomorrow, however anything can change in the open market.
Among the free agents able to test the open market tomorrow will be Canuck defenceman Willie Mitchell, according to Matt Sekeres the Canucks intend to cut ties with Mitchell.
Also from Sekeres: Kyle Wellwood and Ryan Johnson will also become UFA's tomorrow.
It Seems room is being made for Cody Hodgson, Jordan Schroeder and others to make the team next season, however Gillis will also be looking towards free agency tomorrow in order to fill positions among the Canucks bottom six.
Canada Day: Free Agency Bonanza
Since hockey's version of Christmas happens to fall on Canada Day, their surely will be a lot to talk about over a couple Molson's while Celebrating our fine country. While you are out and about enjoying the festivities tomorrow, be sure to follow me on Twitter @PuckheadKvan for the latest updates on Canuck's free agency action.
Heading into tomorrow's free agency I have fairly high expectations given Mike Gillis' comments leading into free agency, however there are only so many players are thirty teams to sign them.
How do you feel? Will Mike Gillis and the Canucks management be able to land the necessary pieces in order for the Canucks to improve next season, or will the more desirable free agents land elsewhere?
Should be exciting, work or play enjoy Canada Day, hopefully those at work tomorrow like Mike Gillis (and myself) will have a productive day at the office.
Filed Under: Prospects • Vancouver Canucks
About the Author: Kevin Vanstone is a long time sports fan and Canucks die hard from White Rock, British Columbia. He is currently attending the University of Victoria pursuing a Writing degree, and in his spare time writes about all things Canucks hockey as well as news and notes from around the NHL.
Comments (1)