Fred Poulin | Nov 14, 2011 | Comments 2
Like every year, let's have a look at the most hated active NHL players this season. These players are often well liked by their team-mates, but despised by the opposing teams. They are pesky pests that go under your skin every time you face them and often get suspended for their dirty gestures on the ice. The list only includes active players, that's why notable retired pests like Claude Lemieux, Darcy Tucker, Ulf Samuelsson, Jeremy Roenick, Dale Hunter, Marty McSorley, Darius Kasparaitis and Chris Simon are not included in the list.
Please feel free to add your personal list of players you hate in the comments citing the reason why they should be listed.
#10 Maxim Lapierre, Vancouver Canucks
One of the biggest yapper of them all, Maxim Lapierre is not the kind of player who plays dirty, but he is always in your face trying to push you to the max without ever dropping his gloves. And when he decides to drop them it's against players like PJ Axelsson, Brian Lee and Petr Prucha. He ended finding his niche with the Canucks last season and was a key cog of their Stanley Cup run. Lapierre has decided to play hockey this season and has reduced his talking on the ice and started playing more intelligent hockey.
Certified stupid moment: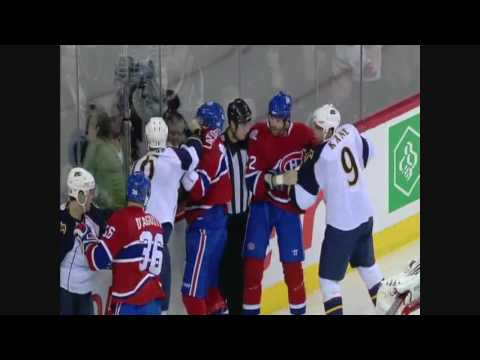 Maxim Lapierre dropping his gloves, but not fighting.
#9 Milan Lucic, Boston Bruins
While Lucic has turned into a very good power forward in the NHL, he's been known to be a dirty player over the years, checking Jaroslav Spacek from behind during last year's first-round playoffs and sucker-punching Freddy Meyer in December 2010. Lucic is not afraid to drop the gloves and can defend himself. So far his reputation as an elite forward, as allowed him to avoid being suspended for his antics on the ice, but Saturday's dirty hit on Ryan Miller will certainly put Lucic on Brendan Shanahan's radar.
Certified stupid moment: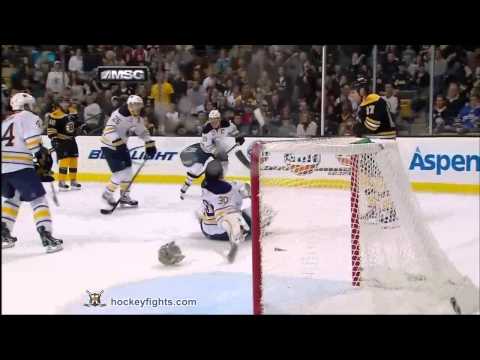 Lucic levels Ryan Miller without even trying to avoid him
#8 Steve Ott, Dallas Stars
Steve Ott is a pesky player and a shit disturber. His job is to get under your skin and he is very good at doing it, but there's a fine line between being a pest and being a scumbag. Steve Ott charges, hits high and gouges eyes. As with most pests nowadays, he only drops mitts against smaller players and turtles a la Claude Lemieux when he is confronted by a heavyweight. However, Ott is also a pretty good hockey player as shown by his eight points in eleven games this season.
Certified stupid moment: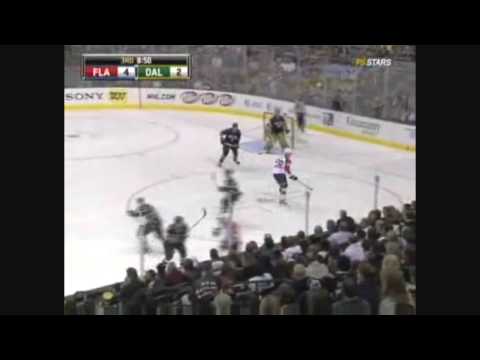 Steve Ott charging Gregory Campbell
#7 Scott Nichol, St. Louis Blues
Declared a repeat offender under the CBA, Nichol seems to enjoy getting suspended. He likes to hit, crosscheck, blindside, punch, he does it all. Nichol was given a four-game suspension for a blow to the head of defenseman David Schlemko of the Phoenix Coyotes last season. He has been fairly quiet this season with the Blues, until he does something stupid.
Certified stupid moment:


Nichol sucker punches Jaroslav Spacek after a hit.
#6 Sean Avery, New York Rangers
Sean Avery's erratic behavior has made him one the most hated player in the NHL. He is hated both by the fans and the other players. Avery was even arrested for battery on a police officer this past August. Avery is arrogant, and does not think things through. From his Sloppy Seconds remark about Dion Phaneuf to his turtling and diving and his insults about French Canadians, his goal seems to become the NHL's villain and he reached his goal admirably. Avery would be more suited for a role in Hollywood than in the NHL. Avery even made a cameo appearance in the Rocket (movie about Maurice Richard) as former NHLer Barry Dill.
Certified stupid moment: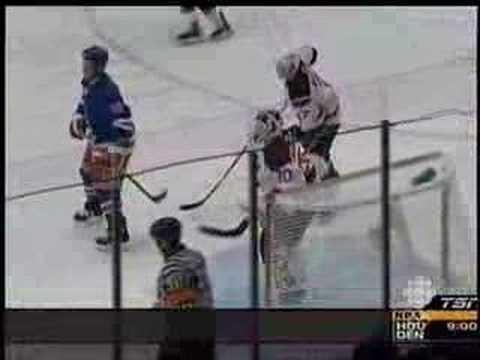 Sean Avery trying to screen Martin Brodeur.
#5 Chris Neil, Ottawa Senators
One of the most despised player in the league, Neil's job is to get under the opponent's skin and he's fairly good at it. Known for his cheap shots, Neil also likes to drop the gloves and have a good scrap. He doesn't mind fighting smaller opponents or even tough guys like Donald Brashear or Andrew Peters. However, his opponents must have their head up when he is on the ice because Neil's elbows have a tendency to get very high and nasty.
Certified stupid moment: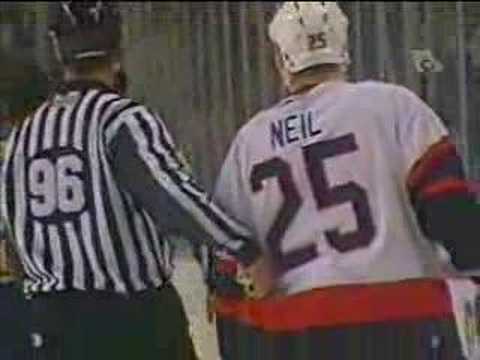 Chris Neil blindsiding Buffalo Chris Drury
#4 Jordin Tootoo, Nashville Predators
The #1 cheap shot artist, Tootoo has always been an agitator even when he was playing junior hockey in Canada. Tootoo likes to charge his opponents, to hurt them and to hit them blindsided. He has been suspended more than once for his conduct on the ice. Recently, Tootoo has entered the NHL substance abuse program because of off-ice problems.
Certified stupid moment: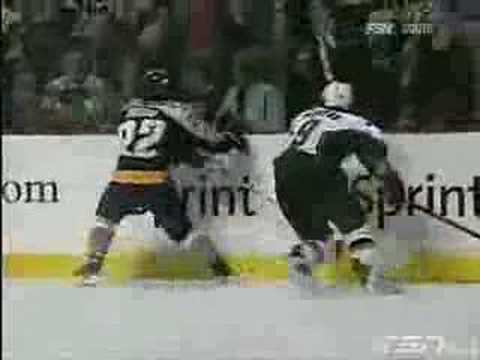 Jordin Tootoo sucker punches Dallas Stephane Robidas.
#3 Matt Cooke, Pittsburgh Penguins
While Cooke has decided to play hockey so far this season, he has earned a reputation for being a dirty player around the NHL. Cooke was suspended twice last season for a dirty hit on Fedor Tyutin and an elbow to the head of Ryan McDonagh that earned him a 17-game suspension. I bet most of the NHL was cheering when Evander Kane handed Cooke a beating last January.
Certified stupid moment: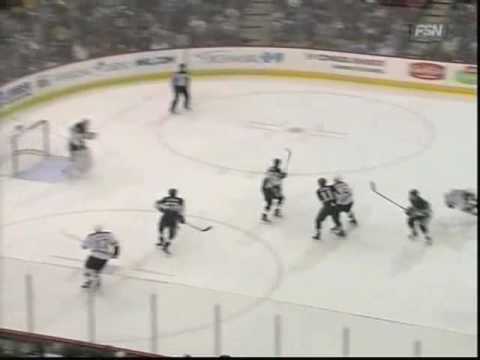 Matt Cooke ends Marc Savard's career with a blind-side hit.
#2 Daniel Carcillo, Chicago Blackhawks
Now with the Chicago Blackhawks, Carcillo has been a pest his whole career in the NHL. He has been suspended numerous times throughout his career and his dirty reputation was pressed into metal by a lot of hard, hard work over the years. Carcillo even racked up 324 penalty minutes in only 54 games during the 2007-08 season with Phoenix. Paul Bissonnette is a saint compared to him. Carcillo has been suspended four times during his career, most recently in October 2011 for a check from behind on Joni Pitkanen.
Certified stupid moment: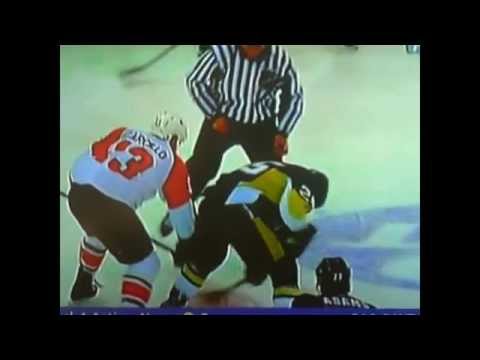 Daniel Carcillo sucker punches Max Talbot on the face-off circle, earns a one-game suspension.
#1 Patrick Kaleta, Buffalo Sabres
Kaleta is the ultimate pest and cheap shot artist. He hits your star players, he talks all the time, but he rarely fights. His is well-known among referees as a diver and a complainer. He was suspended last season for head-butting Travis Zajac and has been suspended for dirty hits in the past.
Certified stupid moment:


Patrick Kaleta head-butting Jakub Voracek like Zinedine Zidane. He earned a four-game suspension on the play.
Honorable mentions: Steve Downie, Derek Dorsett, Cal Clutterbuck, Corey Perry, Brad Marchand, Alexandre Burrows, Todd Bertuzzi, Chris Pronger, P.K. Subban, David Clarkson, Sidney Crosby.
Fred is a freelance sports write and translator, as well as a featured Montreal Canadiens blogger on http://hockeyindependent.com/blog/ and a baseball columnist on http://www.dobberbaseball.com/. Fred also joined www.habsaddict.com in time for the 2011-12 season.
About the Author: Working as a freelance sports writer and translator, Fred, 33, graduated from Laval University in Quebec City, earning a bachelor of translation in 2002. An avid fan of the Northeast division teams, he's also a long time fan of the Washington Capitals and the Montreal Canadiens. Fred also speaks fluently French and Spanish. http://twitter.com/FredPoulin98 www.traductions-quebec.com
Comments (2)