Fred Poulin | Oct 27, 2010 | Comments 2
Led by All-Stars Drew Doughty (currently on the injury reserve due to concussion symptoms) and Mike Green, the NHL is currently experiencing a boom in young and exciting offensive defensemen. While size and physical edge are still highly in demand, a new generation of offensive-minded defensemen is emerging in the NHL.
Let's have a look a this new generation of players in no particular order (all 25 years-old or younger):
Mike Green – Washington (25) 6'2", 210 lbs: Coming off a career-year during which Green notched 19 goals and 57 assists for 76 points in 75 games, Green is the perfect prototype of an offensive defenseman. His skating, puck movement, and offensive instincts are all elite – maybe the best since Paul Coffey. Green also scored a career-high 31 goals in 2008-09 for the Washington Capitals. And despite having a reputation of being a bad defensive player, Green is boasting a +55 plus/minus ratio in 322 NHL games.
Drew Doughty – Los Angeles (20) 6'1", 220 lbs: Doughty posted career numbers last season, scoring 16 goals and adding 43 assists for 59 points in 82 games, pretty impressive for such a young defenseman. Doughty is the real-deal and the backbone of an uprising Kings team. Doughty will not produce as much as Green offensively, but he is far more valuable to his team, because of his defensive abilities and the physical edge he can bring to his game.

Shea Weber – Nashville (25) 6'4", 235 lbs: Boasting arguably the best point shot among NHL rearguards, his shot is hard, heavy and getting more and more accurate. Weber experienced a slight decrease in production last season scoring 16 goals and 27 assists for 43 points, after scoring career-highs of 23 goals and 30 assists for 53 points in 2008-09. Weber is not the flashiest defenseman, but he is certainly one of the most reliable. With other young blueliners Ryan Suter and Cody Franson, the Predators can certainly count on a trio of very exciting players.
Alex Goligoski – Pittsburgh (25) 5'11", 180 lbs: Goligoski has improved his offensive stats the past two years, scoring 6 goals and 14 assists for 20 points in 45 games during his rookie season to notching 8 goals and 31 assists for 37 points in 69 games last year. Gogo boasts great offensive instincts and an excellence hockey sense that will help him improve on last year's numbers this season. He is off to a torrid start with 3 goals and 4 assists for 7 points in 9 games.
Tyler Myers – Buffalo (20) 6'8", 220 lbs: Tower Myers enjoyed a great rookie season last year with Buffalo, notching 11 goals and 37 assists for 48 points. Hulking blueliners rarely produce offensively early in their NHL careers, but Myers proved many experts wrong thanks to his creativity and his tendency to jump into the play at the right time. Myers will be hard pressed to reproduce those offensive numbers, so expect a regression this season, before Myers crack the 50-point mark in 2011-12.
Keith Yandle – Phoenix (24) 6'2", 200 lbs: Yandle is a dynamic skater who really reads the play well, both offensively and defensively. A very underrated rearguard who is not very well-known by hockey fans because he plays in Phoenix, Yandle scored career-highs of 12 goals and 29 assists for 41 points last season. Yandle would thrive on an offensive-minded team, but he is the backbone of the franchise with Oliver Ekman-Larsson as Ed Jovanovski is slated to become a UFA at season's end.
Kristopher Letang – Pittsburgh (23) 6'0", 200 lbs: Letang is more known for his production during the playoffs than during the regular season. He was a key component during the Penguins' Stanley Cup run in 2008-09, notching 4 goals and 9 assists for 13 points in 23 games. Letang had a tough offensive season in 2009-10, scoring only 3 goals and 24 assists for 27 points. Letang, however, is off to a great start this season posting 2 goals and 6 assists for 8 points in 9 games. His very accurate slap shot and smooth skating skills will help him reach 50 points this season.
John Carlson – Washington (20) 6'2′, 220 lbs: The smooth skating Carlson made his NHL debut last season, playing 22 games for Washington, recording 1 goal and 5 assists for 6 pts in the process. Carlson gained a lot of confidence as a blueliner against the Montreal Canadiens during the playoffs last spring. This confidence has translated into good offensive numbers this season. Carlson has already notched 1 goal and 5 assists for 6 pts in only 8 games for the Capitals, showing great offensive instincts and an excellent transitional game.
PK Subban – Montreal (21) 6'0", 200 lbs: After playing only 2 regular season games last season with Montreal, Subban stepped up big time during their long playoff run, recording 8 points in only 14 playoff games following Andrei Markov's injury. The smooth-skating Subban is showing flashes of brilliance this season with the Habs with 4 assists in 8 games. Subban has blazing speed, a very accurate slap shot and great hockey IQ. He will be the backbone of the Canadiens' blue line for years to come.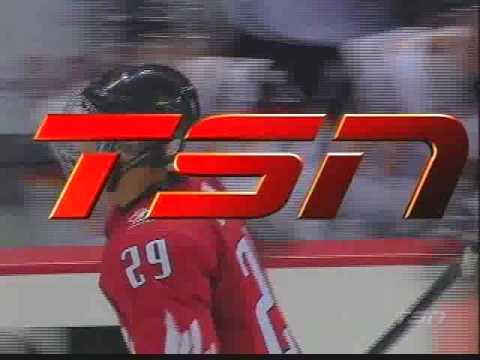 Erik Johnson – St. Louis (22) 6'4", 220 lbs: After missing a complete season due to a freak golf cart accident, Johnson rebounded well last season for the Blues, recording 10 goals and 29 assists for 39 points in 79 games. Johnson is a complete player that is used in every situation by his coach, and thanks to a much improved team, both offensively and in the net with Jaro Halak, great things are expected both from the Blues and Johnson. EJ has a booming slapshot, quick feet and a large frame that makes him the ideal blueliner upon which you build your team.
Other notables: Jack Johnson LA, Victor Hedman TB, Erik Karlsson OTT, Ryan Suter and Cody Franson NAS, Zach Bogosian ATL, Jamie McBain CAR, Brent Seabrook CHI, Anton Stralman CBS, Brent Burns MIN, Oliver Ekman-Larsson PHX, Michael Del Zotto NYR, Alexander Edler VAN
If you think I forgot your favorite player, please let me know.
You can follow me on Twitter.
About the Author: Working as a freelance sports writer and translator, Fred, 33, graduated from Laval University in Quebec City, earning a bachelor of translation in 2002. An avid fan of the Northeast division teams, he's also a long time fan of the Washington Capitals and the Montreal Canadiens. Fred also speaks fluently French and Spanish. http://twitter.com/FredPoulin98 www.traductions-quebec.com
Comments (2)