Adrian Fung | Feb 22, 2011 | Comments 1
Now that the Penguins have made one deal already, what other possibilites are smoldering?  Yesterday, Pittsburgh GM Ray Shero struck while the iron was hot, pulling the trigger on a trade that sent young defenceman Alex Goligoski to Dallas for a pair of even younger players: left wing James Neal and blueliner Matt Niskanen.  Shero was originally reluctant to trade Goligoski, saying that he "made it clear to every team that called that I was not looking to trade him … If I was ever going to move Alex it was going to be for the right forward, and with James Neal I think we've found that up-and-coming winger.  His best days are ahead of him … Getting Matt Niskanen in the deal was also important to us.  He's a young guy, only 24 years old, and he's had some pretty good years so far in the NHL."

twitter.com/PenguinsMarch
Hockey Independent on Facebook
When the opportunity to acquire young, affordable talent so close to the deadline presents itself, wise GMs will look to push a deal closer to fruition, knowing that the closing of the window for getting such a player is just one moment of hesitation and a third team's phone call away.  Shero and Dallas GM Joe Nieuwendyk thus got things done yesterday, rather than wait until the haggard moments that can surely come one week later which often lead to desperate, rushed and regrettable transactions.
This is not to say that there will be radio silence in Pittsburgh for the balance of the trading period.  Rob Rossi of the Pittsburgh Tribune-Review reports that the club is interested in a pair of 37-year old forwards, both of whom have multiple 20-goal seasons on their resume: Cory Stillman of Florida and Alex Kovalev of Ottawa.  Stillman won the Stanley Cup in consecutive seasons with Tampa Bay and Carolina while Kovalev needs no introduction.  He played his best years as a Penguin, racking up 149 goals over five seasons in Pittsburgh.  Ottawa is in full rebuild mode and has already gathered four draft picks in four deals this month.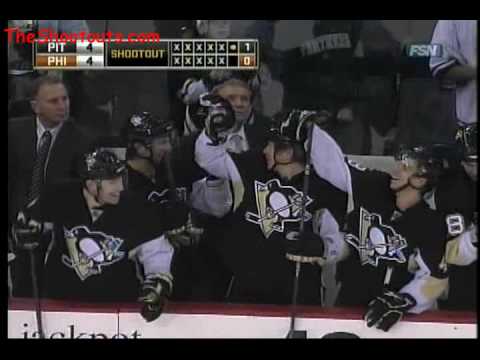 If the asking price is a lower-round or conditional pick, it wouldn't hurt to add Kovalev, a player who, when healthy and motivated, is still a dangerous sniper.  After yesterday's trade, the Penguins expunged Goligoski's cap hit of $1.833-million for next year while taking on a combined $4.375-million for a net full-season increase of $2.542-million for 2011-12.  Presently however, taking into account the long-term injured reserve cap space afforded by the Penguins' injured players, there is still $2.275-million available for this season, room enough to absorb the remnants of either the contract of Stillman (approximately $892,000) or Kovalev ($1.263-million).
As for Goligoski, Dallas acquires a 25-year old defenceman whose potential was not fully realized in Pittsburgh.  He made the 2008-09 team out of training camp, joining a defensive unit that was missing injured top blueliner Sergei Gonchar.  Goligoski acquitted himself well, scoring 6 goals (4 on the power play) and 20 points in just 45 games and was recalled from the AHL for 2 games against Washington when Gonchar suffered another injury during the Stanley Cup playoffs.  Last year, he put in another solid campaign, scoring 8 goals and 37 points in 69 games, adding 2 goals and 9 points while playing every playoff contest.  On defence, he was second only to Gonchar in regular-season and playoff scoring.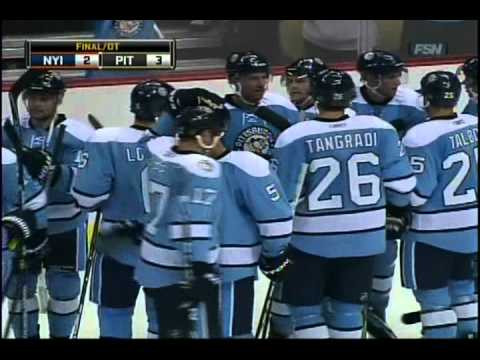 This season however, with the Pittsburgh defence significantly revamped, he became a surplus commodity.  It's strange to say that for a player who played all 60 games of the schedule at the time of the trade and was on his way to setting new career-highs in every major statistical category.  In 2010-11, he already scored a career-best 9 goals (4 on the power play), his 17 power play points were third-best on the entire team and his +20 was tops on the Penguins.  Yet two factors ushered his departure out of Pittsburgh.  First, his defensive skills were inconsistent.  He often had problems cutting off forwards from sweeping to the outside, along the boards and to the net.  He was not a physically-imposing defender, generally incapable of using his body to compensate when beaten on an opposition rush towards the goal.
Second, when Gonchar signed with Ottawa in the off-season, it was assumed that one of Kris Letang or Goligoski would take over the #1 defenceman role.  Letang seized the opportunity spectacularly and became an All-Star and his all-around skills on offence, on the power play and defensively, accelerated much faster than Goligoski's.  As noted, Goligoski was signed for one more season after this one for an affordable $1.833-million while the team's "core four" defencemen, Letang, Brooks Orpik and free agent acquisitions Paul Martin and Zbynek Michalek, all are signed for at least three more seasons.  Thus Goligoski's relative youth, potential and contract made him an attractive chip in a trade.
With Dallas, Goligoski already slots in as an offensive quarterback.  He has more points than any other Dallas defenceman.  Like Niskanen, a change in scenery could benefit Goligoski, who played in the shadow of Gonchar last season and in the shadow of Letang this season on man-advantage situations.  He will have the chance to step out and be the key man on the power play as a Star and perhaps realize his potential to be a blue line star.
Filed Under: Dallas Stars • NHL • Pittsburgh Penguins
About the Author: Adrian Fung (@PenguinsMarch) contributes game reports, opinions, analysis and features, mostly about the Pittsburgh Penguins. He has covered the World Hockey Summit, Kraft Hockeyville, World Junior Championship exhibition games, CHL/NHL Top Prospects Game, MasterCard Memorial Cup and NHL Rookie Tournament for Hockey Independent. twitter.com/PenguinsMarch
Comments (1)