J. OzVath | Nov 28, 2009 | Comments 4
In the early 3rd period of Saturday night's Flyers game against the Atlanta Thrashers, Colby Armstrong laid a shoulder check into Philadelphia forward James van Riemsdyk (JVR).  Armstrong would get a five minute major for Charging and an additional five minutes for Fighting with Flyers goon Arron Asham immediately after the hit.  It was a fight Asham instigated to defend JVR.
Hockey Night in Canada's Jeff Marek alerted me to the altercation via Twitter saying "An ugly incident in the PHI/ATL game w/Armstrong dropping JVR. HNiC will show it and discuss. Standby."  Now I didn't see video until after the Penguins were done with the Rangers and I'll admit I was expecting to see a whole lot more than what I saw: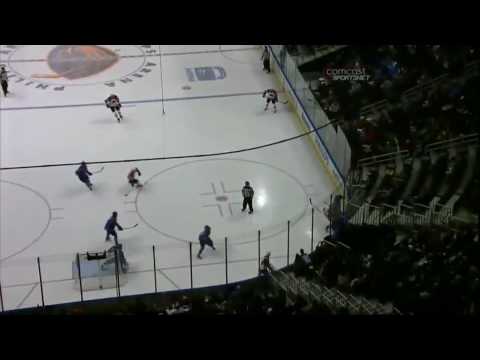 Now, taken on its own, I see maybe a 2 minute minor for Charging, and it's a stretch to get there. Armstrong received 5 because JVR was down and Armstrong doesn't sell a lot of #20 sweaters.   Bear in mind that van Riemsdyk was crosschecking Armstrong in the faceoff circle right before the hit occurred.   The thing that floors me is that the video above is of the Flyers telecast.  The play by play team of Jim Jackson and Keith Jones went on and on about the "unsuspecting" James van Riemsdyk.  I struggled to stomach their commentary for several reasons.
First, lets think about it seriously.  You just got done whacking the guy in the back about 10 times.  Know what you did and who is on the ice.  Second, keep your head up/on a swivel.  Wait a moment, I vaguely recall Flyers homers using that expression to justify another play this year:
David Booth "should have had his head up" according to many many people.  "Can't just blame the guy who lays the hit" protested others.  "You need to know where everyone is on the ice" was the watchword of hockey pundits and goon play apologists everywhere who tried to rationalize the fact that an NHL star had hurt a hockey player badly enough to require him to be removed on a stretcher.  Booth is yet to play another game since that hit from Mike Richards.  There was no penalty issued on the play nor did Richards receive sanction in any form from NHL discipline Czar Colin Campbell.
I expect Colby Armstrong to get the same, nothing. Especially due to the 10 minutes of penalty time already assessed to him.  If you are a Philadelphia fan, writer, or commentator who advocated Mike Richards' innocence and now pontificate the need to punish Colby Armstrong for this play, you are a hypocrite.  No bones about it, you are decrying what you said was not a problem.
Armstrong's hit is not even in the same solar system as what Richards did to Booth.  He has already been punished through the course of  the game with heavy penalty time for a play that likely means JVR will not miss any further action.  The league does take into account the result of the play in terms of injury when assessing it for suspension or fine.  Richards got nothing, Armstrong should get nothing, and everyone should calm down about it.  The only reason this was even on the radar tonight is because JVR didn't get right up.
About the Author: Pittsburgh Penguins/NHL Hockey Blogger, Father, Husband, IT Geek, former player, and NHL 11 EASHL addict. Oz has been cited for his work on XM Radio's NHL Home Ice, Penguins HD Radio, and Y!'s Puck Daddy Blog. Email: slbd1@gmail.com Twitter.com/ozman51 Xbox: ozman51
Comments (4)