Lawrence Dushenski | Jul 24, 2011 | Comments 2
After the Oilers wrapped up their second straight season as the worst team in the entire league, all eyes in the City of Champions focused on the draft for the second time in as many years. Last year, those faithful to the copper and blue argued back and forth about Taylor or Tyler, and the team eventually settled for the former, Mr. Hall, who notched 42 points in 65 games as a rookie. This year, the Oilers went for a true centre as they selected a kid by the name of Ryan Nugent-Hopkins from the Red Deer Rebels. But despite having finished in the basement of the league for two straight years, there is a serious contingent of Oilers faithful who believe that the kid that has come to be known as Nuge, should be sent back to his junior team for another year
The last first overall pick to be sent back to his junior team was Mike Modano in the 1988-1989 season. Much has changed since then in terms of player development, salary cap and the skill level of draft eligible players. So to think that Nuge will be sent back to the his club straight out of Training Camp is highly unlikely. Most believe that he will be given his nine game tryout, but will not quite make the cut. But many seem to forget that this player was ranked as the top draft eligible player by nearly every scouting service and drew comparisons to Pavel Datsyuk along the way. Oilers fans are among the most passionate in the league, but at times they can be misguided, this seems to be one of those times.
The Oil have a few centres in their system, with Shawn Horcoff, Sam Gagner and Eric Belanger, along with a few youngsters coming up in their system who can play in the middle of the ice. Gilbert Brule is still seen by some to be a legitimate NHL centre, while he is better suited for the long term injured reserve. Anton Lander is a solid two way centre who is making the jump to the North American game, but he could use a season on the farm. Chris Vande Velde and Ryan O'Marra are decent players, but they too could use some more time on the farm, if in fact they will even be ready to make the jump.
So why the hesitation to throw Nuge into the fire? Most people point to his diminutive frame. He ended the season with Red Deer tipping in at just over 160lbs., but is said to have put on at least ten pounds of muscle since then, and said at the Oilers rookie development camp that he was planning to enter main camp at 180. So would it not make sense for him to continue his development, and weight gain, with the help of a professional staff, rather than on the bus riding around western Canada with the Rebels?
Further to that point, what more does he have to prove playing against kids in the WHL? He finished fourth in the league with 106 points in 69 games, and has little left to prove against such competition. Sure it would be nice to see him suit up for Team Canada at this years World Juniors being held in Calgary and Edmonton, but I would rather see him playing between Hall and Eberle during the holiday season rather than between Ty Rattie and Jonathan Huberdeau. Nuge can play soft "second" line minutes, throw him on the half boards on the powerplay, and see what he can do.
Nuge has already been singed to his entry-level contract, so the club is best off getting three years of big league service out of him, rather than wasting one third of his years of service on development in junior. Hall, Eberle and MPS will be up for extensions in the next few years, and now that RNH has his clock ticking, it is best to take advantage of his skill with the Oil.
What about the thought of putting the most competitive and skilled team on the ice this year and trying to prevent being the worst team in the league for three years in a row? That would be pleasant for Oilers fans to see. Most have bought into the past two years failure with the assurance that highly skilled players would be the reward, but how many years can the fan base stay patient? The city of Edmonton and Oilers owner Daryl Katz are currently working on a deal to build a new downtown arena for the team, and it seems as if a competitive team would be more likely to gain public support than a bottom feeder.
What if the Oilers managed to even make the playoffs this year? The city still remembers the miracle run that was 2006, and many city councillors and possibly even provincial politicians may change their tune about funding the arena project if a successful team is one the ice. Is is ridiculous to say that an 18-year old rookie, with his ridiculous skill set, could have on impact on municipal and provincial politics, along with the negotiations of funding a $500 million dollar project? Sure it's ridiculous, but crazier things have happened. After all the Ryan Smyth was acquired for a damaged Colin Fraser and a 7th round pick.
So how do lines like this look?
Smyth-Horcoff-Hemsky
Hall-Nuge-Eberle
Paajarvi-Gagner/Belanger-Omark
Eager-Gagner/Belanger-Jones
Belanger and Gagner are interchangeable based upon defensive match ups and Gagner's inevitable streaky play. The top line has been effective in years past, and a winger here and there could be switched up with the kids if need be, for leadership and such.
It is hard to believe that someone like Sam Gagner, Eric Belanger, or Anton Lander would prevent Nuge from playing with the big club for the entire season. He is a generational talent, and needs to be playing in Oilers silks for the entire season to ensure that he reaches his potential. So for those that thinks that he needs another year in junior, well can you really deal with another year of bottom feeding? Despite a few shrewd moves on July 1, the Oilers are hardly playoff contenders without Nuge in the lineup. Why not put the most talented players on the ice, and let them work through the struggles of the NHL game?
Let's hope that the Oilers brass has a similar train of thought.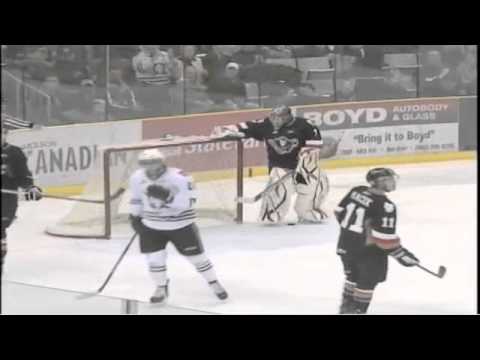 Filed Under: Edmonton Oilers • NHL
About the Author: Student, aspiring writer/journalist, sport enthusiast, Copper and Blue in my veins. Check some of my sports ramblings at http://twitter.com/LD10.
Comments (2)