Jeremy Scriven | Jul 07, 2010 | Comments 10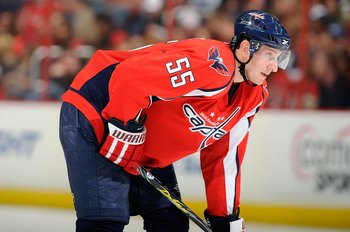 The Washington Capitals have re-signed Jeff Schultz to a four year contract worth $11 million.  The average salary over the duration of the contract will be around $2.75 million per year.  This surely should come with some sort of relief to the Caps, as this signing prevents an arbitrator from determining Schultz's worth.  However, I would have been shocked to see an arbitrator place Shultz's worth at more than the $2.75 million he will receive starting next season.  This will come as a healthy raise for Schultz who earned just $715,000 last season.
On paper, Schultz is in every way deserving of the increase he will receive starting next season.  Schultz had a career year for himself, while playing along side Mike Green for most of the 2009-2010 campaign.  Schultz, 24, lead the NHL in +/- with a rating of +50.  Schultz also managed to increase totals in all major offensive categories, including goals (3), assists (20), and points (23).
So why do I say "on paper"?
Jeff Schultz has made drastic improvements.  That cannot be denied.  But Schultz still carries the stigma with him of not being the physical defenseman he should be, one with a 6'6″, 230lbs frame.  He has also managed two consecutive playoff runs of below average play when he is needed most.  Despite the solid numbers during the regular season, Schultz faded in the playoffs.  In 2009, Schultz remained a healthy scratch after a subpar game 1 against the New York Rangers.  During the last two playoffs, Schultz  managed just a -4 in 10 games with just one assist to his credit.
Schultz is positioning himself to be the shutdown defenseman the Caps have needed and coveted for so long.  It is apparent the Capitals will not be making significant moves this free agency period.  The one missing piece to the Capitals' puzzle has long been the absence of a shutdown defenseman to control the front of the net, and be a safety measure in the Caps' high octane offensive scheme.  Schultz certainly has the size to fit this bill, but is the physicality there?  Schultz often appears soft and timid in his own zone.  Granted, Schultz certainly helps make amends with his positioning and stick checking.  He is fantastic in those areas.  But the M.O. of a shutdown defenseman is one that makes opponents fear him.  Currently Schultz doesn't have it.  That said, he is only 24 years old and still has his best years ahead of him.  Ultimately I do believe Schultz can mold himself into the shutdown type defenseman the Caps desperately need.
Schultz now has $11 million reason to not disappoint.
Filed Under: Eastern Conference • NHL • NHL Teams • Washington Capitals
About the Author: Jeremy is a life time hockey fan currently living in Washington DC. Jeremy also runs a Capitals blog called The Nation's Capitals where he frequently posts blogs about the state of the Caps. His other interests include music and politics. Jeremy has a degree in Political Science. Being from DC, politics kind of comes with the territory.
Comments (10)