Jeremy Scriven | Jun 08, 2010 | Comments 12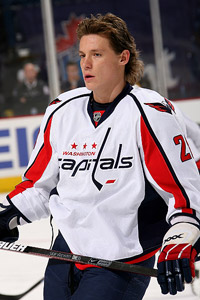 With the Capitals season coming to an unexpected and premature halt just over a month ago – bloggers, journalists, pundits, and anyone else with an opinion began pointing the finger at who was responsible for the franchise's most disheartening loss in it's history.  Cries of Bruce Boudreau's system, the powerless power play, Mike Green, and bad luck were easy targets.  All of these without question played a role in the Capitals' playoff demise.  But the playoff performance Alex Semin put on display certainly didn't help, and exacerbated his role as the most polarizing figure in the Capitals organization.  Despite posting a career high in goals (40) and a career shooting percentage of 14.3%, Semin was unable to dent the twine once in the first round series against Montreal.  Let's give Semin his due credit – he had more shots on goal (44) than any other forward on either team (Yes, more than Ovechkin), but when the average distance of those shots was 32.3 feet, its tells me that Semin was reluctant to go to the high traffic areas and pay the price to score goals.  If Semin connects on just one or two of those shots, the outcome of the series could have been completely different.
But when a player is as polarizing as Alex Semin, he must have been doing something right, right?
I already mentioned the 40 goals Semin scored this season.  These goals were no fluke.  Caps fans have grown accustomed Semin's scoring ability as he has reached the 30 goal plateau in three of the last four seasons.  Last season, Semin finished inside the top ten in goals, +/-, even strength goals, points per game, goals per game, multi goal games, and multi point games.  He is a true offensive dynamo – so much in fact that people inside the Capitals organization have labeled Semin as having the most pure skill and talent of anybody on the team, that includes Alex Ovechkin.  Watching Semin put on a stick handling demo is a pure treat.  It is absolutely effortless.  There may be no better curl and drag in the game today.
So what's the dilemma?
The dilemma is you have an elite NHL player; entering the prime of his career; who for the second straight season was a playoff disappointment; and has an expiring contract.  Semin is signed through the 2011 season, after which he will become an unrestricted free agent.  The cap hit on his contract next season is a rather rotund $6 million.  The Caps have a few options.
1)  Hold onto Semin for the duration of the contract, then re-negotiate.
2)  Trade Alex Semin now.
3)  Wait to trade Semin at next year's trade deadline.
I suppose I should be the first to admit that I am a huge Alex Semin fan.  Have been since his debut in a Caps sweater.  I feel the good he brings far outweighs the bad – and there are a lot of bads.  The offensive zone penalties that make you want to pull your hair out.  He is also quite fond of the lazy offensive zone turnover.  The over/under on one of those is at least two per game.  But the offensive numbers he puts up and the contributions on the penalty kill speak for themselves.  There isn't a team in the league that wouldn't pay him the $6 million he will receive next season.  The irony of the situation is that the numbers Alex Semin puts up will, in my estimation, prevent the Capitals from being able to re-sign Semin long term.
Semin is just now entering the prime of his career and if injuries elude him, Semin could potentially turn into a 50 goal scorer.  He undoubtedly has the talent to achieve that milestone.  If we are to assume Semin puts up another 40 goals next season and finishes between 85-90 points, Semin will be the most lethal point producer on the market.  Given the cap situation the Capitals are in, their will be no room for a player looking to max out on a new contract; a long term contract to boot.  Do the Caps throw the bank at Alex Semin, or focus their attention on other UFA/RFA's like Brooks Laich, John Carlson, Karl Alzner, and Semyon Varlamov?  It's a no brainer.  Carlson and Alzner are the future on the blueline.  Varly is the future in net.  Brooksy is the team's heart and soul.
The other inherent risk is losing Semin and getting nothing in return.  I've stated it and I'll state it again, a player with Semin's raw skill doesn't come around very often.  His value will be at it's height, so the team must get value in return.  Therefore, unless there is agreement with Semin to take less money in exchange for a longer contract – Semin is going to be traded.
So should the Caps trade Semin now, or wait until next year's deadline?
There are pros and cons to both sides of the argument.  The main advantage of trading Semin now would be that it would allow the Capitals to address some their more dire needs before the start of the 2011 season.  Ironically, the Caps are in need of a second line center to play with Alex Semin.  Now that Backstrom is locked up for the next 1o years, the Caps need to fill the void left by Brendan Morrisonn, who is all but already packed to leave town.  Since the departure of Sergei Fedorov, the Caps have lacked second line center who can both score and distribute the puck.
With assets comes the ability to gain more assets, and Semin is a very nice negotiating chip to have.  Perhaps the Caps make a deal around the NHL draft.  Another option may be to part ways with the 26th overall pick in exchange for center – hang on to Semin and see what kind of production he puts up with a legit puck distributor.  That is a scary thought.
But the option that I find the most likely to happen is the occurs around next season's trade deadline.  If I'm George McPhee, I am keeping Semin for as long as possible.  Every year we see teams that hope to be contenders that just can't find enough scoring.  Every team is on the market for a little extra firepower come playoff time.  Teams that are interested wouldn't be responsible for the full $6 million cap hit.  Semin would turn into next year's Ilya Kovalchuk.  Teams could take Semin on as a rental, in hopes of re-signing him at season's end.
This option would also allow the Caps to evaluate the team they are fielding as they enter the stretch run for the playoffs.  Theoretically, teams in need of a little extra firepower would have an asset or two as well that they would be willing to part ways with.  Most likely for the same reasons the Caps may need to part ways with Semin; cap space.  If the Capitals are unable to sign a defenseman or center this off season, it will be nice to have a player of Semin's caliber in their back pocket if it becomes clear that the Caps must sure up the blueline, or even worse, find out that Semyon Varlamov and Michal Neuvirth are not the goaltending tandem that will take them to the promised land.
Time will tell.  How ever this plays out, Semin more than likely is entering his last season as a Washington Capital.
Filed Under: Eastern Conference • Featured • NHL • NHL Teams • Washington Capitals
About the Author: Jeremy is a life time hockey fan currently living in Washington DC. Jeremy also runs a Capitals blog called The Nation's Capitals where he frequently posts blogs about the state of the Caps. His other interests include music and politics. Jeremy has a degree in Political Science. Being from DC, politics kind of comes with the territory.
Comments (12)