MattandDan | Apr 04, 2013 | Comments 1
With the trade deadline over, fans can complain or cheer the Islanders easily predicted lack of involvement.  Regardless of your opinion on whether or not the Isles should have done something, this is now the team they will go to battle with for the remaining 12 games.  The talk has no shifted to playoffs and to this offseason.  The playoffs are certainly exciting.  This upcoming offseason?  Don't get your hopes up.  And quite frankly, that should not be a bad thing.  Yes, we said it, something having to do with this team may not be awful.
There is a lot of chatter pointing out how there will be plenty of cap casualties and the Isles have cap space, so watch out!  Correct us if we are wrong, but the Isles have had cap space for the past 6 years.  What did they do?  Waiver pickups and players such as Mark Eaton.  Awesome!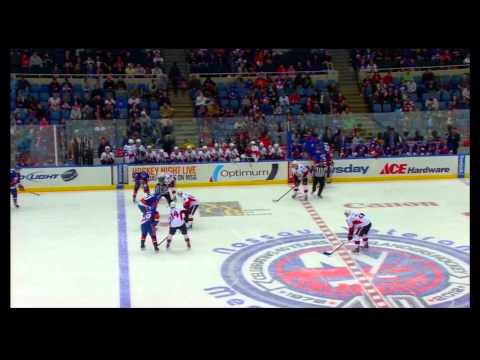 In years past, the lack of involvement was nauseating.  The Isles went into offseasons with holes, and returned to the ice with the same holes.  The difference this year will be that the rebuild pieces should slot into their permanent spots and contribute.  Is there really a need for AHL time for the likes of Ryan Strome and Griffin Reinhart?  Brock Nelson and Nino Niederreiter have done their time.  If they are not bound for the big club, then don't expect them hear anytime soon.  History will show you how first round picks have fared after being passed over instead of inserted on the NHL roster.  These players may play, hey may even contribute, just not here.
You see, the roster is only so big.  There is no way that this team can make additions without making subtractions.  The additions will likely not be from other teams, but will be from within. The subtractions? The subtractions should be Keith Aucoin, who may find himself with a two way deal, Marty Reasoner, Eric Boulton, Thomas Hickey, Brad Boyes, Joe Finley, and Mr. March Josh Bailey. Please do not harp on our removing former 9th pick overall Josh Bailey.  He is on pace for 34 pts over a full season.  Any doubts that the incoming prospects make up that production? He is a RFA, so he will have to find a home via trade or going over seas.  He will not get a big return.  As for Thomas Hickey, there is just no room for a defenseman who does not produce.  A nice story, sure, but not a guy worth resigning.  Maybe if the Isles didn't bend over backwards for Brian Strait after six games, Thomas could have stayed another year.  Once again, this roster is only so big.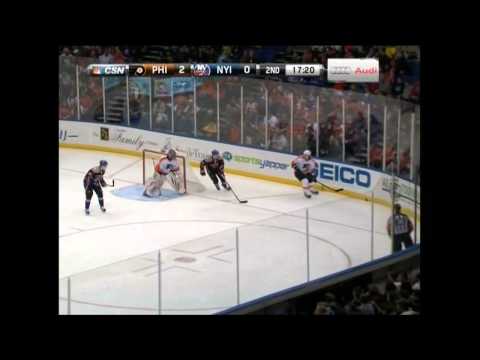 Don't get us wrong.  We feel the likes of Joe Thornton, Vincent Lecalvlier or Dany Heatley who all could be cap casualty players, would be great for the development of Ryan Strome and maybe even help John Tavares get better (imagine that!)  But, we also understand that Garth Snow (or whomever runs the draft) has this team in a position to maybe finally add from within.  We also understand that at the time of this article and most likely for the next couple of years at least, Charles Wang is the owner.  Though we can all harp on the obvious financial restrictions regarding free agents, the Islanders have shown one consistent truth over the past several years.  They have no problem keeping guys they want and paying their own players.  The ELC's of the incoming players will surely increase the payroll.  In fact if Mark Streit re-signs the payroll would sit at close to 50 million dollars. Until proven otherwise, Rick DiPietro will still be here.  Both Nabakov (at the time of this article) and Kevin Poulin will need contracts.  As will Travis Hamonic.  Minus these players the Isles payroll will sit at 44, 185,000 (thank you capgeek!)  Where is all this cap space that people keep talking about?  Even if the above players are not signed, comparable ones will be so similar contracts will be doled out.
So where does that leave Team Cap Floor? Will a playoff push convince ownership that it's time to make steps like other rebuilds have, like coaches, trades, and free agents? And GM's for that matter? Or will an eventual first round exit- the same kind of team that Snow blew up for his rebuilding plan- convince ownership of nothing, and continue along its path of bargain basement players to stick next to John Tavares, career AHL guys looking for their big break, and the infamous waiver wire acquisitions? We'd love to be pleasantly surprised by hearing about the Islanders moving their 8th overall pick this draft for a good to go contributing hockey player. But we should all know what to expect, though there may be a brighter side, basically, its more of the same.
Filed Under: New York Islanders • NHL
About the Author: We are two long time hockey fans who certainly have our own opinions and points of view. Feel free to share yours. Follow on twitter @joshbarely
Comments (1)