MattandDan | Mar 15, 2013 | Comments 5
The late former mayor of New York City, Ed Koch, used to like to ask people "How am I doing?" It's doubtful that anything anyone said to him became a public policy, but at least he wanted to know if the people of the city had a pulse. We're looking to do something similar at this point by reflecting on our preseason predictions, and checking on the progress that the team made. Did we make some solid predictions based on our hockey knowledge? Were we too cynical? We were too fan boyish and overzealous in our predictions? Let us look at the tea leaves and see how they've fallen thus far!
Preseason prediction- 5th in Atlantic, 46 points
Presently – 4th in Atlantic, 27 games, 27 points.
Our prediction of less than a point a game is still valid just past the halfway point. And if the Flyers hadn't had such an awful start, the Isles would have sole possession of 5th place in the Atlantic. The Islanders still have to hit their in season slump, and with limited games against Florida plus games remaining with Boston and Pittsburgh, look out.
Preseason Prediction – John Tavares will solidify himself as a top 5 center in the league.
Presently – John Tavares is solidifying himself as a top 5 center in the league.
Tavares had a slump late last season that prevented him from becoming a point a game player. As of writing, Tavares has 30 points in 27 games. A recent bout with the flu slowed him down a little bit, and JT91 is also prone to little scoring droughts within a season, as we have seen at times. The only good part about that after some quiet games he tends to blow up on the scoresheet. It's fun to read other media outlets writing "Islanders star John Tavares" because the guy is not just our best player, but actually is a star. It's been a while since we had one.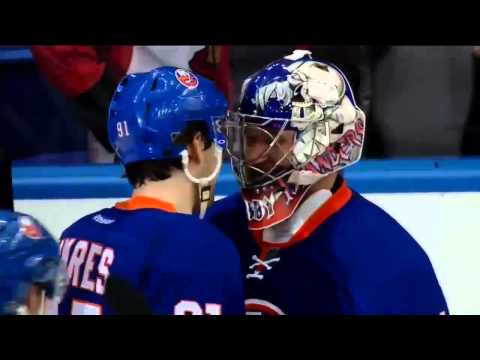 Preseason Prediction – Matt Moulson will score goals from areas no other Islander will go to, and almost every one of his goals will come off John Tavares passes.
Presently – Moulson finally scored a goal when Tavares wasn't on the ice with him- it was his first Tavares free goal since November 2011, which is absurd. This specific prediction was not bold- these two guys like playing together. The third guy on their line is like Officer Nordberg to Frank Drebben and Captain Hocken.
Preseason Prediction – Brad Boyes will hopefully hit 15 goals, but likely score ten.
Presently – Brad Boyes has 7 goals. Boyes has provided more offense than expected (23 points), but the goal scoring touch that everyone was raving about from his time in St Louis? Not so much. The year Boyes scored his 40+, his shooting percentage was over 20%. He must have been standing in the goalmouth when he got those goals because we haven't seen any form of dynamic shot on Long Island.
Preseason Prediction – Matt Carkner will get injured.
Presently – Matt Carkner is injured. This was a stupid contract when it was offered, and it continues to prove its stupidity. The toughness Carkner brought to the lineup is mirrored in the same awful play of Jeff "Roadcone" Finley, who was acquired for a lot less money and on a way shorter term.  Carkner has one highlight on this season – a stirring defense of Tavares on a very questionable yet unpenalized Dion Phanuef hit. This contract, the Finley acquisition, and the drafting of Scott Mayfield, Andrey Pedan, and Griffin Reinhart does give us an insight on what type of roster Garth Snow wants to assemble. It seems Snow sees his defense as two skill players, two large physical players, and some tweeners. Unfortunately, our tweeners happen to be small, unskilled, and not physical. Sorry, AMac and Hickey. And come to think of it, Reinhart isn't all too physical.
Preseason Prediction – Michael Grabner, rebounding from his cement hands last year, will again contribute on the short handed side, but the lack of an outlet passer will hurt his even strength production.
Presently – Grabner only has one shorthanded goal, so we were off there, but he has rebounded from his cement hand having season last year and was third in the team with ten goals before going down with a shoulder injury. And his production is absolutely hampered both by the lack of an outlet passer (second line center) to take advantage of that speed, and by a coach who sees him as a loafer, yet continues to roll out lines consisting of loafers named Kyle Okposo, Josh Bailey, and Marty Reasoner.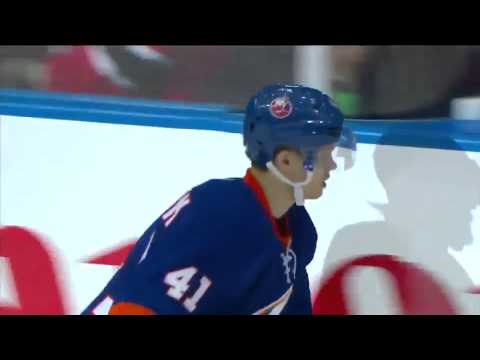 Preseason Prediction – Frans Nielsen, will get his quiet 20 prorated pts, while netting 5 shoot out goals.
Presently – 13 points in 27 games puts him on pace for 21-22 points. Also, 2 shootout goals, as the Islanders have been losing and winning in regulation and overtime more frequently this season. Between Frans and Boyes's and team record predictions, you can see that we're pretty good with the numbers thing.
Preseason Prediction – Kyle Okposo will solidify himself as the Isles top two-way forward.
Presently – OK, here's a clinker. Kyle started the season on the vaunted Tavares line, where every linemate ever playing next to Tavares and Moulson rack up points (see Boyes, Brad and Parenteau, PA). Last season, Okposo grabbed points in that spot. This year? One goal. He is having an awful season. 9 points in 27 games? That'd be a 35 point full season from a guy we were expecting to take the next step (60 points) playing with an elite center.  Also, a guy that is supposed to be a physical player needs to hit somebody every now and then. ZERO hits over his last FIVE GAMES – more than ten percent of the season – is not a physical player. Too often does Okposo vanish in game, and occasionally he vanishes for entire games. Biggest disappointment on the team this year, hands down.
Preseason Prediction – Matt Martin will continue to improve his overall game.
Presently – Martin has improved his overall game. After the first line, the Martin- McDonald- Cizikas line is our most consistent group. Martin will never be mistaken for Cam Neely, but we were expecting him to chip in a few more goals. Martin has grown in the special teams roles he's been given, as he has become an effective penalty killer, and even got his first power play goal. Martin has as many goals with Tavares as Okposo did. the difference is Martin has one minute of common ice time with JT91. Okposo had a month.
Preseason Prediction -The defense will continue not to score.
Presently – Our defensemen combined have notched ten goals. That is one less than Pascal Dupuis has by himself. And the big trade acquisition of the offseason with a history of lighting up the scoresheet? One goal.
Preseason Prediction – Nabokov will play his formerly communist tail off.
Presently – Although he showed some early rust, Nabokov has been playing well considering the stinkiness of the defense in front of him. His save percentage has risen to 90%, but needs to be higher if this team wants to sniff at the playoffs.
Preseason Prediction – Expect Poulin as an injury call up.
Presently – Poulin is here. Injury? You could look at psychotic and egomaniacal as injuries, yes? We are glad that DP is playing in Bridgeport. We're not glad that he's playing well. And we're stunned that he hasn't injured himself yet.
Preseason Prediction – Capuano will not be fired, Weight will say they are close to something, Thompson will be happy to have a job.
Presently – Yup.
Preseason Prediction – Lubomir Visnovsky was brought in for the cap hit and will be dealt for a third round pick in March.
Presently – Lubo may get us a second, or a late first, as he is on the ice for a high percentage of our goals. We still expect the trade coming, especially with the injury to our only scorer not on the Tavares line.
Preseason Prediction – Charles Wang will continue to rob fans of money and dignity.
Presently – Wang is continuing to rob fans of money and dignity, and he's also not paying his rent. He also made Ed Mangano want to downsize the Coliseum by running out a bargain basement hockey team on an annual basis and never filling up the building. Who needs all of those extra seats that never get sold, anyway?
And so it goes, at the just past the halfway point, the Islanders are sitting where we predictably saw them. Our only gaffe in predicting was underestimating how bad OkSmokeso can be. That's not a cigarette joke- that's a comparison to underwhelming suckbag Brian "Smoke" Smolinski. In retrospect, we should have made a prediction about Travis Hamonic. And we would have been wrong there in expecting Hamonic to have a growth season. The National Debt laughs at Hamonic's plus/minus. And here's a bonus midterm prediction: Capuano finishes the season as head coach. When there's no accountability, all that matters are battle levels, puck awareness, passengers. Capuano coaching is akin to your math teacher in high school looking at your awful test score, says "try harder," and continues to not teach. Efforts like that produces one kind of result, and that's more of the same.
Filed Under: New York Islanders • NHL • NHL Teams
About the Author: We are two long time hockey fans who certainly have our own opinions and points of view. Feel free to share yours. Follow on twitter @joshbarely
Comments (5)