MattandDan | Feb 18, 2013 | Comments 4
There are great questions that man has tried to answer in various meaningful ways throughout the years. Why are we here? What is the purpose of life? What are the limits of human exertion? And then there is the great question that Islander fans have to wonder:
How much longer will John Tavares put up with this shit?
A quick background- John Tavares was the first overall pick in the 2009 NHL entry draft. There was talk that the Islanders were interested in Matt Duchene and Victor Hedman, but instead of trying to reinvent the wheel, Garth Snow and Charles Wang took the most dynamic player in the draft. Tavares put up 54 points as a rookie, potting 24 goals. The next season saw growth, with 29 goals and 67 points, and then last season he found his stride, with 31 goals and 81 points. He's a point a game player thus far in the lockout shortened season. John Tavares is the best Islander this team has produced since the still scoring 40 goals somewhere Ziggy Palffy.
What's most notable about John Tavares? He HATES to lose. Want proof? Look at how he has improved each season, while the team around him has not. He has an internal motivation to win. His demeanor on the ice shows his passion. His training in the offseason is focused on improving aspects of his game that he identifies as lacking. First it was skating, then it was one timer, now it's his slap shot. He desires to be elite, and he demands it of himself. He has been a winner on every level. Leagues have amended rules to allow him to play. He makes his teammates around him better because he is super talented and does not want them to lose either (see PA Parenteau, Kyle Okposo, Brad Boyes).
We're not saying that other players like to lose. These are elite athletes, after all. But lets compare JT to the guy taken a year before him in the draft- a top ten pick- same position, yes, different expectations, but still a player expected to contribute on a nightly basis: Josh Bailey. Bailey as a rookie had 7 goals and 25 points. He jumped to 16 goals and 35 points. Assuming a Tavares like leap, his third season should have been 20 goals and 45 points. Instead, we got 11 goals and 28 points albeit in 3 less games played. Last season, Bailey posted 13 goals and 32 points, but was moved to wing, and had 5 of those points in one game. Though he is a nice guy, his numbers got WORSE in Capuano's systemless offense, as Tavares got better.  What is Bailey supposed to be? A second line center, you say? What is this team missing? Oh. A second line center.  That's another tale for another time, back to the matter at hand.
JT91 is expected to turn around the fortunes of this franchise, as he singlehandedly turned around the fortunes of Matt Moulson. But that's the problem. He is being asked to do it singlehandedly. When he lost his off winger, a former career AHL'er turned 60 point producer, the team brought in ANOTHER reclamation project in Brad Boyes, to "help" with the power play, but really, to see if Tavares can find Boyes' lost 40 goal form for a pro-rated million bucks.
But how can he turn around the fortunes of a franchise that refuses to arm itself with the tools needed to succeed? John Tavares has played for two head coaches- Scott Gordon and Jack Capuano. Gordon, a career minor league coach overlooked by his own parent franchise when filling a major league coaching gig, was fired. But, this being the Islanders, they kept him in the organization doing god knows what because he was still under contract to them. I cannot imagine how humiliating that was for Gordon, nor how uncomfortable that was for the players who ran into him. As an aside, Gordon was then picked up by cellar dwelling Toronto where he continued to under achieve. In that interim, Gordon was asked to coach Team USA as an assistant three times. His most recent effort? The US finished 8th in a tournament, behind hockey powerhouses like Norway and Germany. In short, this was a rotten call at head coach. Nice job, Garth.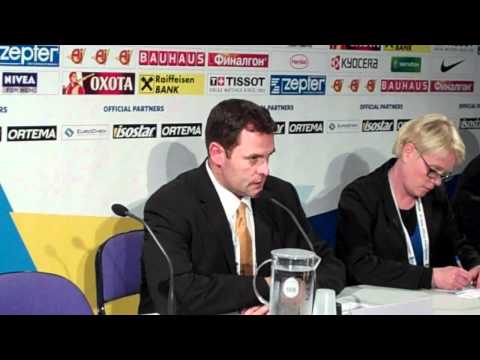 And Capuano? There's only one thing to say about "Mr. I'm About as Dynamic as my Mentor Steve Stirling"- Tavares took his wipe board away and drew his own play. X's and O's aside, JT knows more about hockey than his coach. This is a problem. Jack Capuano as a head coach of a hockey club is about as bad an idea as re-releasing the Phantom Menace in 3D. This is an Islanders problem that has perpetuated since the days of Palffy being centered by Travis Green, Yashin having Aaron Asham at wing, and continues through ignoring Pat Lafontaine in this team's history. The Islanders NEVER make that one extra step they need towards respectability. What if Yashin had a talented winger? What if Palffy had a talented center? What if Lafontaine was front office material? But this is a story for another day.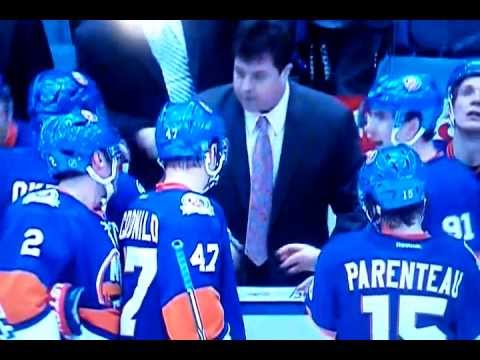 That never gets old.
This losing has taken a toll on JT91. We're starting to see that cool exterior of Tavares's crack. He seems to take more offense to the Islanders being mocked than ever before. He's showing actual frustration in interviews at the outside perception of his Islanders being a lightweight franchise. Even when Boomer Esiason was pulling his leg over Matt Martin, Tavares took offense and defended his teammate. He's stated that he hates when fans boo Islanders, which officially will keep me from booing Islanders. When Johnny Hockey talks, we listen. But he's also conveying another message: enough with the loser thing.
The problem with that demand, however, is that he's asking the wrong people. When you get sick of losing, here's what you should do, JT91- walk into Garth Snow's office, politely inform him that his drafting stinks when not picking first overall, then tell him what players to acquire, and remind him that at any time this is a temporary relationship, and he can't send you anywhere worse than you are now. You got the leverage, kiddo. Use it. And then, when nothing happens, their message to you is loud and clear.
So, our answer to the philosophical question we posed at the beginning- five more years. JT91 is too much of a competitor to spend the prime of his career having Charles Wang and Garth Snow wonder if he can revive the career of Peter Forsberg next year. JT91 also seems too mature to take the route of loudly and publicly complaining about his surroundings and his fate. He has always been a guy who lets his actions speak for him. So we figure, he will live up to the expectations that what's left of this 5 year 33 million dollar contract will ask. That will make him comfortable financially for life. Then he can overlook the hockey horizon, and sign where he can compete, contribute, and NOT be asked to save Zarley Zalapski's career.  John Tavares will one day have his name engraved on the Stanley Cup. Sadly without change in direction for this franchise, it will not be here where he has been dedicated to righting the ship that the owner will not.
As the season continues, expect more of the same Tavares, a player blossoming into on of the leagues elite superstars.  However, expect more of the same Islanders, a team run criminally by a man who robs fans of their money, young players of their heart and soul, and laughs all the way to the bank.  If you think Charles Wang is actually losing money, you are completely wrong.  Just wait to the next article.
Filed Under: Eastern Conference • New York Islanders • New York Rangers • NHL • NHL Teams • Toronto Maple Leafs
About the Author: We are two long time hockey fans who certainly have our own opinions and points of view. Feel free to share yours. Follow on twitter @joshbarely
Comments (4)