MattandDan | Feb 16, 2013 | Comments 0
In the first part of this epic, we promised three pieces of evidence to explain how Garth Snow does things with the sole intention of job preservation. We pointed out how he is relatively awful at drafting in part one. Part two will speak to other shortcomings, starting here:
Two- Garth Snow uses salary cap magic to keep his job.
Look at the Nino incident. Here was a top six winger on a team with no openings in the top six for wings. Come on now, we all know why Nino was here: $900,000 salary, $2.795 million cap hit. Snow is so insidious that he even put Nino on the 4th line. Why is that evil? Because Nino had a bonus clause regarding making the all star team. Playing 9 minutes a night with Jay Pandawful and Marty noReasoner as linemates ASSURES you not making the all star team, thus saving the team money. Not even Tavares could get Nino to the all star game last year, but why take that chance? Tavares might have helped Nino pot in some goals. But those other guys? Wayne Gretzky couldn't help them find their offense.
"Well then, why is Snow not calling our first round picks onto the team this season?"
Look at the CBA. At the end of the lockout, those astronomical rookie bonuses ($1.03 million for Mike Halmo?) no longer counted towards the salary cap. There was no advantage to having a guy get paid what he earns and being able to report differently, so why bother? Why pay Ryan Strome $925,000 or Brock Nelson $900,000 when I can pay Keith Aucoin $650,000? Why pay Griffin Reinhart $925,000 when I can pay Joe Finley $525,000?
"Are you saying that Garth Snow is looking at throwing away a season just to save $650,000?"
Yes, yes we are. And more. Why is DiPietro not in Bridgeport and one of Kevin Poulin or Anders Nilsson the backup goalie? Wouldn't the team have a better chance of winning with one of those two replacing Ol' Rheumatoid Knees? The salary cap. DP's $4.5 m would count in Bridgeport OR the NHL, but the $891,666 of Poulin or the $900,000 of Nilsson would be an added hit to the cap. By the way, think the reason Nilsson made a debut last season getting paid a prorated $900,000 when they could have gotten a goalie elsewhere for cheaper for 4 games (see, Ghrame, John)? $850,000 phantom cap hit bonus.
What will make this scenario worse is if Strome starts next year in the AHL, and is called up after 15 or so games. It'll prove he had nothing to learn there, and that the only reason he wasn't on the 2013 team was to save money and avoid all of those lucrative bonuses that he may have hit. It will be even WORSE if Strome is on the 2013 Islanders as a late season call up for the same reasons WITHOUT the AHL time.
"Well, what if Strome isn't on the team this year or next year?"
Since he didn't go to college or play in Europe, it doesn't speak well for Ryan Strome's talent if he debuts from the entry level draft 3 years after his classmates. In school that's called being "left back," and you all know how kids who were left back were looked upon.
Garth knows cheapness makes Wang happy. Milbury asking for all of those free agents and NHL trades cost Wang "millions" per year. Fired! Somehow Snow cut the payroll in half… yet Wang still loses the same money. Thus, Snow is safe!
Ultimate proof? Tim Thomas. Watch what's going to come out of that mess.
Three- coaches. The best money can buy! Oh, wait, no.
Jack Capuano is the worst coach in the NHL.
"Well, look at the roster he has to work with!"
Sure, lets.
How many recent first round draft picks play or have played for Capuano? JT91, Okposo, Bailey, Grabner, Wishart, Nino…anyone else? OK, name ONE PLAYER that Capuano coached and maximized their talent. Bailey has REGRESSED under Capuano. Wishart REGRESSED under Capuano. Nino not only regressed, he is on record saying that the coach IGNORED him. Ignored a top 5 lottery pick! Okposo finally had a 20 goal season, but we can thank Tavares for providing support and Bailey for having 20% of his season production in two games passing to one of his second half all star teammates.
The only player to blossom under Capuano is Tavares, and that's because Tavares pays no attention to what Capuano says: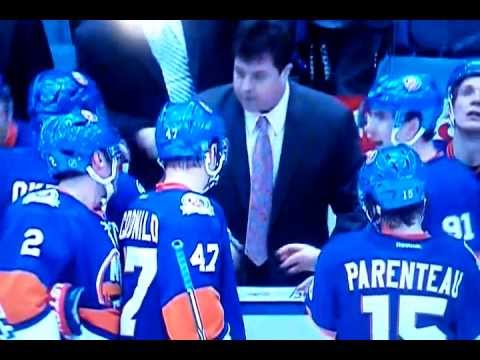 Capuano's awfulness is on display with every Islander blown third period lead. The man has no concept of in game adjustment. Here's the Capuano "method" of hockey:
- Hot start to the season as other coaches who actually implement systems are working out their kinks. Since Capuano has no system to teach, players are game ready on day one. We're not saying systems are the be all end all for a coach. They just happen to work for coaches like Peter Laviolette, John Tortorella, Mike Babcock, Dan Bylsma, Joel Quenneville, Claude Julien, Darryl Sutter, Scotty Bowman, and Al Arbour.
- Season starts to unravel quickly as other coaches realize that "PAL" style coaching is cute for 12 year olds, then watch game film, identify weaknesses, and score on Isles first. Frequently on the first shot. Almost with certainly the first goal of the game.
- Season unravels faster as opposing coaches see that Capuano doesn't make changes in game, then make their own adjustments for the third period. Islanders watch helplessly as lead is blown/score gets out of hand/Dipietro gets injured.
- By the halfway point of the season, Isles fade from playoff contention. Players, knowing accountability is a discouraging word, start to do whatever they want. Second half all stars emerge in Okopso, Neilsen, Bailey.
- Team ends up lousy enough for lottery pick, but Edmonton is guaranteed the first overall pick until DNA science finally finds a way to clone Gretzky and Messier, so they get to choose the second or third best 18 year old forward or defenseman available. And we know that the Islanders historically have a stellar record in grooming those types of players to be NHL stars!
- Lather, rinse, repeat.
His coaching is awful. Remember how Mike Babcock was blasting him in that Red wings game last season because he coaches like a kid playing NHL '13?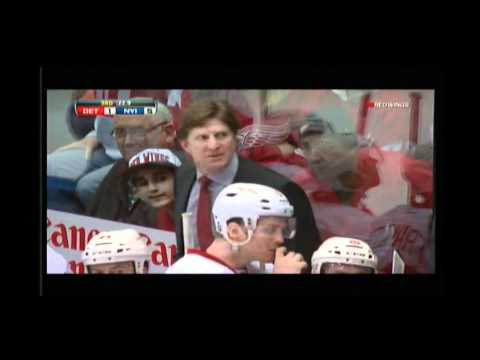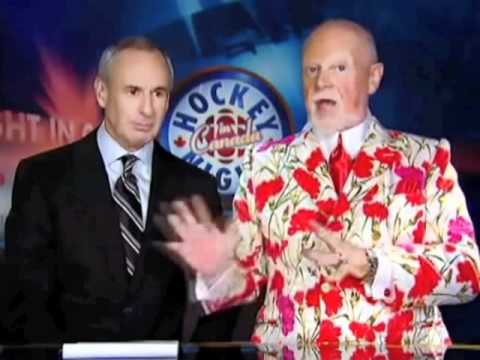 His use of the timeout is the equivalent of a parent sending a kid to their room AFTER he started the house fire. There are way too many bench minors, but that's just for the salary cap floor hit. There are also too many "too many men on the ice" penalties.
And worst of all, he uses DiPietro. What coach would look down the bench at that and think "that's gonna steal us some wins!" We all know how the front office is ordered to run DP out into the lineup, and they pass the order down. Even if Capuano wants to sit DP, his assistant coach is also his boss in Doug Weight- the assistant to the General Manager. Only the Islanders would make a subordinate coach the boss of the coach.
"But the Islanders have a winning record against western conference teams!"
You want to know why? They don't see Capuano but once or twice a year. They can't invest a week looking at game film. But do you know who can? Conference and division opponents who see the Islanders often. And what's Capuano's record in the Atlantic? In the East? Here's a hint- 4 out of 5 teams in the Atlantic had over 100 points last season. Where did they get them? Right- beating on the team with 78 points. One win in the last 9 trips to MSG. Brodeur has more career wins against the Isles than any other team, with at least ten shutouts before we got tired of counting them. Friggin Marty Biron with a 21-4-2 career record vs the Islanders…and he played for them, or it'd be even worse.  How often do they win in Philly? Seems like they haven't beaten the Capitals since Bossy was on this team. The crybaby Penguins? If Fran Fraschilla was our announcer, he'd be calling games with his pants down, waiting for his moment to pounce.
Also, either buy some new clothes or eat something. Capuano even looks the part of a little boy in a big boys world. I'm waiting for Dudley Moore and Kirk Cameron to show up in his suits.
But there is a purpose to this. Coaching this bad keep the heat off of Snow. Fire Nolan, fire Gordon, fire Capuano…what do all of those things have in common? And why isn't that thing fired? Yup- no accountability. As long as it's on the cheap, it's on!
Can you believe that Garth Snow said with a straight face that Capuano's X's and O's were second to none? Either he was talking about penmanship, or he's trolling the media.
Long story short, Sow doesn't trade, doesn't sign free agents, doesn't draft well, and can't pick a decent coach. What he does well is allow Wang to make money by keeping payroll below CBA created cap floors, and for that, he keeps his job. I'm sure it gets to him, as he was a competitor, and there may be some anger eating happening there. But in short, as long as Snow is GM, "he's not wasting your money," "he has no limitations on budget to make the right move for this team," and "we build through the draft." In other words, expect more of the same.
Filed Under: Anaheim Ducks • Boston Bruins • Buffalo Sabres • Calgary Flames • Carolina Hurricanes • Colorado Avalanche • Columbus Blue Jackets • Dallas Stars • Detroit Red Wings • Eastern Conference • Edmonton Oilers • Florida Panthers • Los Angeles Kings • Minnesota Wild • Montreal Canadiens • Nashville Predators • New Jersey Devils • New York Rangers • NHL • NHL Teams • Ottawa Senators • Philadelphia Flyers • Phoenix Coyotes • Pittsburgh Penguins • Prospects • San Jose Sharks • St. Louis Blues • Tampa Bay Lightning • Toronto Maple Leafs • Vancouver Canucks • Washington Capitals • Western Conference • Winnipeg Jets
About the Author: We are two long time hockey fans who certainly have our own opinions and points of view. Feel free to share yours. Follow on twitter @joshbarely
Comments (0)