MattandDan | Feb 06, 2013 | Comments 10
As constructed on paper, the 2012-2013 Islanders seemed as if their goal was to have a competitive shot at the #1 pick in the 2013 NHL entry draft. That is mildly surprising, considering that two other teams in recent memory – Pittsburgh and Chicago- also used a five year rebuild plan, each culminating with a Stanley Cup.  Judging by their process, this should be our cup year! But it seems The Islanders are in a vicious cycle of collecting top picks and recycling garbage.  Another once great franchise seems to be stuck in neutral as well.  At least they have an excuse. Calling anything touched by a Tambellini NHL hockey is like calling Budweiser good beer.
Setbacks in prospect development are expected, but to an extent, so are surprises. Unfortunately, for the Islanders, most of the time surprise comes in a "how can he be this bad?" kind of way. What became bothersome to us in the recent past actually has less to do with Islander prospects, and more with the prospects of others.
It all started with the lockout shortened training camp. As teams released players, the Islanders jumped at the opportunity to grab other teams unwanted "talent".   If you were building a house would use a roof that was thrown away?  However, that's not even the issue. The problem? Redundancy. The first guy, Thomas Hickey, was a first round reach in the NHL draft. He is not tall, under six foot, nor is he two hundred pounds. He could have worn Aaron Ness's jersey and no one would have noticed a difference. And last time I checked, we had an Aaron Ness.   Can't say it was for an experienced player over a rookie.  Seven years after being drafted Hickey plays his first NHL game.  Of course the Isles are the ones to grant that to him over their own highly touted draft picks.
Since apparently drafting 11 defensemen in the last two years wasn't good enough, Mr. Snow also plucked another two defensemen off of the waiver wire.  Garth Snow collected one of whose best standout trait was being "big." Joe Finley came from Buffalo. Buffalo has a pretty NHL decent crop of defensemen, so you may get that their 7th may turn into our 5th defenseman. After all, Buffalo is a playoff contender…oh, wait, they aren't. We're taking losers from losers. Great strategy, Garth. Why don't you try moving one of our losers?  Oh, that's right. That would take actual player movement and half of a brain.  Anyway, anyone who watched the man play completely understood why he was on waivers. The other move was Brian Strait.  Strait was cut from  Pittsburgh, which is a winning organization. One thing hockey minds universally recognize is that Pittsburgh has a lack of defensive depth. So we took a guy who couldn't make a defensively porous team, watch him play for 2 weeks, and then give him a three year contract. What GM does that? Something smells fishy. He must have found Snow and Capuano trying their hands at "the docker." Oh that's right. Proven defensemen cost money and do not play for peanuts.  Couple this with the Radek "Trainwreck" Martinek signing for "depth." Martinek has similar physical characteristics to another Islanders defensive prospect, Matt Donovan. Martinek ended up getting injured taking a hockey physical. From what we heard, DiPietro was envious! Donovan was an AHL all star, and we all know that Snow loves the AHL for cheap labor. I get that our "redwoods" are a bit down the road in Mayfield, Pedan, and Reinhart, but there's no need to bridge the gap with a "Deadwoods" defense.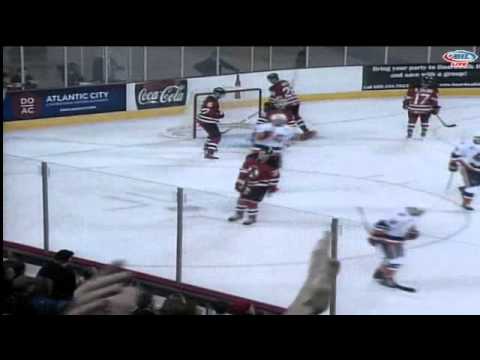 Yeah, we don't need that.
Add insult to injury as the Islanders pull Keith Aucoin out of limbo from Toronto, another loser organization. Toronto waived Tim Connolly, a guy who scores at a point per two games pace. We need a second line center. So what does Snow do? Aucoin. Oh, that's right. Connolly still gets a paycheck. Aucoin has been a pleasant surprise thus far, but at 34, what's left in the tank? Not to mention he doesn't exactly add size to team lacking in that department.
All of these waiver signings tells me two things about the Islanders "rebuild" and poses a question.
1) After five years, we have no offensive minded NHL ready prospects.
2) After five years, we have no defensive able NHL ready prospects.
The Question:
Are we rebuilding the rebuild?
Still in shock, we turned to Newsday's own beat reporter Arthur Staple to clarify what we were thinking. The following is taken from a transcript available on Newsday's web site (live chat, 1/16/13):
12:43 pm "Lightspear" (probably not a real name)
"What do the waiver claims of the last few days say about the NHL readiness of our current Bridgeport etc prospects?"
12:44 pm Staple
"I think it means that the D depth in Bridgeport is certainly fragile. We knew that before, though, when Calvin de Haan went down with his shoulder injury. Aaron Ness and Matt Donovan are good players, but they have ceilings to how high they project; it's the NEXT WAVE (emphasis mine) of prospects, with Mayfield, Griffin Reinhart, perhaps Ville Pokka and Robbie Russo, that need to get their feet wet in the pro game in the next year or two before there's real cause for excitement in the system."
For those of you keeping score, it's not the LAST five years of rebuild that matters, it's what coming up TOMORROW that counts. The NEXT five years. Just long enough for JT91′s contract to run out and watch him walk away. Perfect- the excuse for ANOTHER rebuild! And please don't try to justify the rebuild on based on the record of our first 8 games. That clunker against the Devils shows off the Islanders biggest shortcoming- the lack of in game strategy changes by a coaching staff. We usually start strong, and then when other coaches figure out the Capuano plan, it's more of the same.
So guys drafted in 2008, like Donovan and Ness, get jobs stolen by guys drafted by others in 2007. By that logic, next season, we should have Ness and Donovan on rosters elsewhere in the NHL. Wait, wha? What organization poaches AHL players and roster cuts from last place teams? Oh, right- the Islanders. Consider this: maybe Snow's drafting skills just aren't what people blow them up into being, which is why he's working the waiver wire taking others draft picks. Because obviously you don't want to rush prospects after 4 seasons in the juniors and AHL now, do you? Why rush a Donovan, a 4th round pick from 2008? And yet your third round pick from the same year is already going into his third pro season, in Travis Hamonic. We get that every player develops differently, but we felt that Donovan and Ness both looked comfortable in their call ups last year, and Donovan certainly looked good in the exhibition freebie at the Coliseum in January.
And this gets back to a question we have been asking for a while now- why doesn't Garth Snow have any confidence in his ability to judge NHL talent? Lack of trade making, lack of promoting his own players into key roles (4th line isn't key), lack of free agent acquisitions (and btw, we offered to overpay for Paul Martin? God does that make our point for us re: unable to judge talent), lack of bringing in experienced NHL coaches…Doug Weight is even on record as saying that the Islanders have had their eyes on Brian Strait for a few years now. WHY? Why not fix your eyes upon someone transformational, like UFA Ryan Suter or Zach Parise, instead of someone cast off from their own professional organization? What other team is fixing their eyes upon Jon Landry? All of this is unfortunate for the fans of Islander country, because when it comes to management, the only consistency is inconsistency. And sadly, the end result is sucking perennially.
As the great philosopher OJ Simpson would say, "Beating a dead horse." Or as Islander fans should be shouting, "More of the same." You know, we should put that on a t-shirt.
Filed Under: Boston Bruins • Buffalo Sabres • Carolina Hurricanes • Eastern Conference • New Jersey Devils • New York Islanders • New York Rangers • NHL • Pittsburgh Penguins • Toronto Maple Leafs
About the Author: We are two long time hockey fans who certainly have our own opinions and points of view. Feel free to share yours. Follow on twitter @joshbarely
Comments (10)