Jon Jordan | Aug 11, 2010 | Comments 4
Prior to yesterday's introducion as the new head coach of the AHL Norfolk Admirals, the only time the casual hockey fan may have heard of Jon Cooper is from his involvement in what became known as "Bat-Gate", during his tenure as head coach and general manager of the USHL's Green Bay Gamblers.
In case you'd forgotten: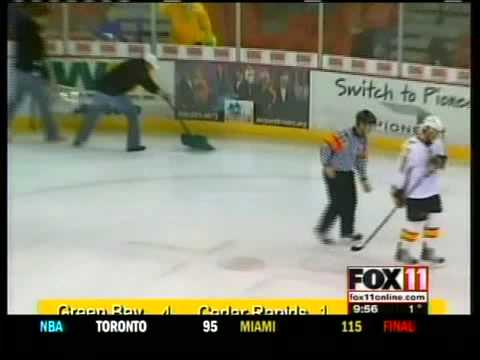 Of the incident, Cooper said it was, "One of the crazier things I'd ever seen in hockey," and neither the Gamblers' fans nor their opponents would soon let them forget it.
"For about a month, the (Green Bay) fans threw bats for the first goal," Cooper said. "And the first time after that game (with the bat), we were at Lincoln and they played the theme to 'Batman' when we went on the ice."
Of course, Cooper preferred his team to be noticed for their actual hockey efforts on ice, rather than their bat-battling exploits but, as he told his club at the time, "If this is what it takes for our team to make SportsCenter, it's better to get looked at than to get looked over."
For the Tampa Bay Lightning, the hope is that the new bench boss for their top minor league affiliate will get that club looked at for all the right reasons as well and, bat attacks aside, Cooper's track record, which includes multiple championships and coach/GM of the year honors at various levels, suggests just that on the horizon in Norfolk.
For more on Jon Cooper joining the Lightning/Admirals organizations and my conversation with him yesterday, please check out today's piece at Kukla's Korner.
JJ
jjordan79@tampabay.rr.com
JJ on Twitter
The Bolts Beat podcast archive
Filed Under: Eastern Conference • Featured • NHL • NHL Teams • Tampa Bay Lightning
About the Author: Jon Jordan established himself as one of the web's most reliable resources on the Tampa Bay Lightning for four-plus seasons, covering the Bolts for HockeyBuzz.com and then Kukla's Korner, as well as contributing several guest spots around the web and in print, including Yahoo! Sports, McKeen's Hockey, AOL Fanhouse, NBC/Versus and of course, a stint right here at HI. "JJ" has offered his opinion as a guest on dozens of radio shows across the US and Canada, most notably featured on SiriusXM's NHL Home Ice, and co-founded and co-hosted "The Bolts Beat" podcast (formerly known as "BoltsBuzz Radio") which ultimately became "Hockey Night in Tampa Bay" on the local airwaves at ESPN1040 in Tampa. Outside of hockey, Jon co-founded and served as contributing editor for LockedInMMA.com, focusing on the Florida fight scene and covers college basketball for Sports Direct, Inc. After stepping away from hockey coverage almost completely for the 2011-12 season, Jon will contribute intermittently here again in 2012-13.
Comments (4)