Jamie Fraser | Dec 01, 2010 | Comments 2
Tomorrow marks Dany Heatley return to Ottawa since the trade which sent him + a 5th round pick to the San Jose Sharks for Johnathan Cheechoo,Milan Michalek  and a 2nd round draft pick.
As an Ottawa Senators fan I was truely shocked that Heatley wanted a trade out of Ottawa after signing a monster extension. But as a person studying Human Resources in university I was disgusted how Heatley handled the situation.  Ethically Heatley should have known that his actions addressing the media about wanting out of Ottawa would drastically damage returns for the Senators.
The presumed assumption why Heatley wanted out was because of Cory Clouston's coaching. Clouston runs a team game, so everyone works hard and contributes. Heatley expressed his displeasure how he was put on the 2nd powerplay unit. Dany did you know not every player gets to play on the powerplay? Also Dany would you think it's better to spread scoring or just stack it on one line? Anyways his role had supposedly diminished and he was moved out.
Just a few hours before July 1st(Heatley got a 4mil signing bonus on july1st) Edmonton and Ottawa had a deal in the works that would have sent Penner,Smid and Cogliano for Heatley. Guess what happens next? No not a trade that's too simple. Heatley who wanted a trade says "Oh I don't like Edmonton" and vetoed the trade with his no trade clause. So Ottawa pays Heatley 4 million bucks and we wait a month until….
San Jose rumours come out. Heatley had been sold by August that the Shark tank was where he wanted to be. So Doug Wilson had the cards in his favor and Brian Murray really couldn't do anything but take a bad trade.
Take a look  at this parody of Cee Lo's "Forget You" by Ottawa's Radio station the TEAM 1200 about Mr Heatley.
This pretty much sums up what the city of Ottawa thinks of Heatley
So the deal between Ottawa and San Jose :
Ottawa Senators traded Dany Heatley and a fifth-round draft pick in 2010 to the San Jose Sharks for Milan Michalek, Jonathan Cheechoo and a second-round draft pick in 2010.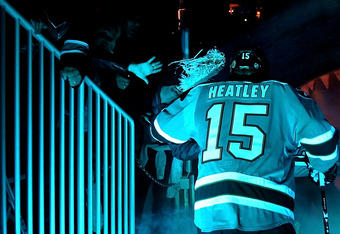 Stats Heatley vs Milan and "buyout" cheech
Heatley: last season had 39 goals and 43 assists for 82 points. This season has 12 goals and 13 assist for 25 points. So 107 points since joining the Sharks
Michalek: 22 goals and 12 assist for 34 points last season. This season has 5 goals and 5 assists. So 43 points since joining the Senators
Cheechoo: 5 goals and 9 assist for 14 points last season. In the off season Cheechoo was bought out from his contract.
107 vs 57 points hmmmmm… doesn't seem very fair.
At least some positive notes:
Michalek is a great penalty killer.
Ottawa Senators owner Eugene Melnyk has filed grievance against Dany Heatley for taking the 4 million dollars not taking the Edmonton trade.Deputy Commissioner Bill Daly had suggested to Ottawa that the club have grounds to file a grievance, as the trade demand may compromise the contract that required they pay upfront to Heatley $4 million.
So tomorrow will be "boos" in Ottawa and not just at Parliament Hill. Expect the biggest "boos" ever from fans at Scotiabank Place.  While state side expect tons of "boos" from Cleveland with the return of King James.
By the way Brian Lee has cleared the waiver wire. Brian Murray still wishes to trade him so he won't send him to Bingo yet.
Filed Under: Eastern Conference • Edmonton Oilers • NHL • NHL Teams • Ottawa Senators • San Jose Sharks
About the Author: Hi,I'm Jamie. I live in Crosbyland aka Halifax,Canada and I am currently the Ottawa Senators blogger for hockeyindependent.com Follow me on twitter @JamezFraser
Comments (2)