J Scott Moore | Dec 11, 2009 | Comments 0
The Colorado Avalanche have starting goalie, Craig Anderson back in net tonight after missing four games due to an injury inflicted by goalie killer, Keith Ballard.  If players continue to run Craig Anderson then I think it's time a message was sent to the league.  And I don't mean the front office.
The Avs take on the Tampa Bay Lightning tonight and if any one of them so much as looks at him cross-eyed, he needs to be pummeled by the Avalanche.  Now part of the challenge here for the Avs is their lack of fighting toughness on the backline.  Not that a forward can't take on this roll, but I would like to see at least one Avalanche defenseman take on the role of being Andy's personal bodyguard. 
Adam Foote has dropped the gloves in the past, he's getting a bit long in the tooth to keep doing that and he really hasn't dropped 'em much in the last few years.  Footer has only three fights since the lockout and no fights in nearly two years.  But if you think he isn't up to the job, take a look at his last fight with Jordin Tootoo.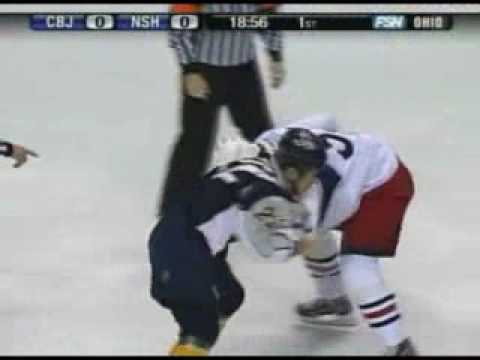 I like the captain showing the team what needs to be done, but I would also like to see one of the other guys take on this responsibility.  So who else might take on this role?  Well here is the last fight (only NHL fight) John-Michael Liles was in.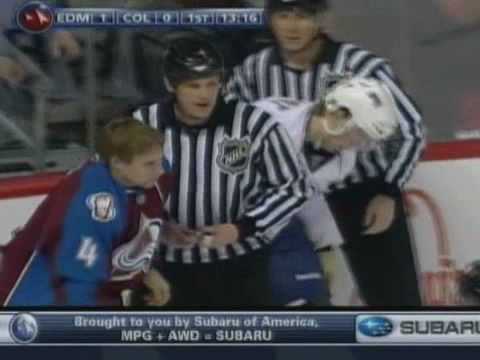 So I don't think he is our guy.  Way to protect the face pretty-boy.
How about Hannan, Clark, or Quincey?  Combined, they average less than a fight per year since the lockout.
That leaves Ryan Wilson, who has shown a real penchant for putting the hurt on guys with his checks.  Let's watch this recent video of Wilson leveling Ethan Moreau and fighting Zach Stortini.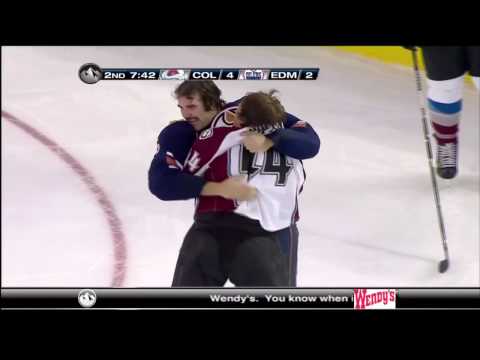 Now Wilson didn't fare so well in that fight but looking at his 100+ PIMs in his last couple years in the OHL, it's obvious that Wilson has done a little fighting.  He could be the man for this job. 
If the league isn't going to protect our goalie, then things need to be handled by the Avs, on the ice.  I don't care if that pint-size Martin St. Louis is the one that commits the infraction, someone needs to address it.  Craig Anderson is clearly a key component to the winning ways of this new and improved Colorado Avalanche.  Last I checked the league doesn't have a skirt-rule for goalies and I'm not calling for one either.  I'm calling for the Avs to stand up for one of the guys that have made this team a winner again.
Filed Under: Colorado Avalanche
About the Author: I'm an irascible rec-hockey player, your typical 'lunch pail' player. A Colorado native, I was raised on Broncos football, with occasional minor league and Colorado (hockey) Rockies games thrown in. With the arrival of the Colorado Avalanche and my crazy idea to learn to ice skate (and eventually play hockey) at the age of 33, I fell in love with hockey, finally. You can find me here: Real Denver Sports and here: Twitter
Comments (0)