HyeDray | Mar 16, 2012 | Comments 6
The end for the Islanders 2011-12 season is more or less at hand. We can discuss that at another time — but the bigger end might be just beginning. To suggest we should be concerned is an understatement.
Conversations I have had.
The play of the team.
The lack on anything coming directly from Charles Wang.
All of this has me starting to believe fully, that the New York Islander franchise will cease to exist beyond April of 2015.
Ratner's remarks were nice, but was there any real substance to them?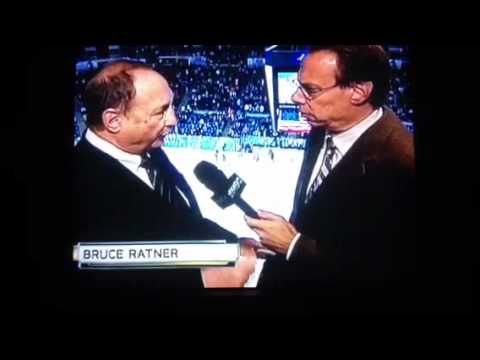 It was a shot over Nassau's bow so to speak. It lets Nassau know there are options for the Islanders beyond the County and Town.
As exciting as it would be for the Islanders to finally settle on a new home — there are some major issues and some reality to ponder.
The Brooklyn location is going to gain some fans perhaps, but lose a lot of Suffolk fans. As of now it is a nice pre-season venue and nothing more. Listen carefully and even in this interview, Ratner admits that some seats are not optimal for hockey.
Queens is nowhere at this time. There is no building being build, or considered for sure. It is nothing but talk and pie-in-the-sky.
Nassau and Suffolk are dead in the water at this time. Nassau is flat out too tied up in its own bull shit, and the Town of Hempstead is tied up in much of the same games. The town had a privately financed deal in place and discarded it. The people had a bond deal and threw it out. Suffolk might be in more dire fiscal shape then Nassau — so anything there is hard to imagine unless somehow there is a private deal somewhere — and then there is still political will to contend with. I used to live in Suffolk, and know first hand that the politics in Suffolk is no different then it is in Nassau.
Brooklyn and Queens has the political will, but is there a willing team owner?
I think for Charles Wang, the money has to be right. I recently exchanged some remarks via twitter with BD and he raised some good points.
For me — Wang is not in this as a passionate hockey fan. Sure, he wants to see the team do well, win and he will come here and support the team any way he can, but he has lost millions, and he wants to recoup those losses and stop the bleeding. Simply finding an arena for the sake of finding an arena is not reality. He is going to find a deal that affords him the best financial windfall.
I am not sure that arena will be local.
Some have said a new owner is the solution. It could be, but any new owner that comes in now would be faced with the very same issue that Charles Wang is faced with — a lease that expires in 2015 and no new home to play in beyond that date.
If Ratner has as much passion as he displayed about the Islanders staying in New York — my one speculative question would be — why doesn't he look into buying the franchise, and moving them to Brooklyn. He seemed pretty jazzed about the idea — this would be a chance for him to do that — putting money where the mouth is.
But here again — would Wang sell to Ratner — or for that matter anyone else? I suppose if someone came in and offered Wang $200 million, it would be difficult to say 'no.' But I dont see any one coming in on the horizon with that kind of cash to buy this franchise.
We could be seeing the last few seasons for the Islanders. Quebec, Hamilton, Kansas City, Seattle and perhaps even Las Vegas may all be courting Charles Wang, if they already have not been actively doing so.
I understand Wang must be at the end of his rope with Nassau, and with the area. He may be looking to make a simple, cold business decision at this point in time to get out. That might be the prudent thing to do. But, if he sells, what are the chances that the Islanders remain the Islanders? The NHL says it wants to keep the Islanders here, but they also said that about Atlanta. There are major issues with Phoenix as well. While the league has never moved a dynasty team, or a team that has won a Cup, there is always a first. And unless the league chooses to buy the Islanders and run them as they have with Phoenix, I just don't see how this plays out.
We, as fan, are the ones who have to eat it. We are the ones who suffer. I just hope that we are not left in April in tears without a hockey team — like Atlanta, Hartford, Quebec and other fans have been. Right now — that looks more, and more likely with each day of silence from the Islanders, and no movement anywhere on any front.
Are you as concerned as I am?
Filed Under: Featured • New York Islanders
About the Author: A graphic designer who loves the game....and knows that age has slowed him down — but the passion is there. Islanders fan since the 70s, Dad, Husband and Coach of the Flying Tiger's Email: andre@filamentdesigns.net Twitter: http://twitter.com/FilamentDesigns
Comments (6)