esd714 | Mar 09, 2011 | Comments 4
With as much mock indignation as I can muster, I can say it happened again-an NHL player was drilled along the boards on a borderline to dirty play.  This time it involved the storied Bruins and Canadians, and not the maligned Islanders-but that has not stopped the world of NHL fans on social media (and the paid pundits) from jumping in and calling for suspensions, fines, rules changes and lots of hand wringing.
And seemingly-although it can't be proved, the image conscious NHL is taking some of this to heart.  The hit was ferocious, and it happened in real time in a professional hockey game-and guess what, the refs didn't only make a call, they made the right call.
First, if you have not seen it, here's the hit: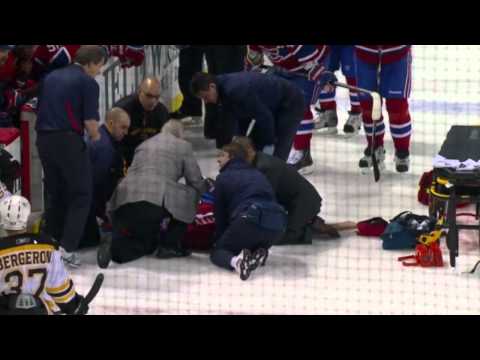 As of late last night, Max Pacioretty was concussed, but moving his limbs and was facing a battery of tests today.
As of this morning, Zdeno Chara faced a hearing with the NHL for supplemental discipline.
There is something wrong with that.  There are rules and the rules were enforced.  Yet if you take a look at this snippet from 30 minutes after the hit-there is already a call for more than right call on the ice.
It's a disturbing trend.  We saw this with Milan Lucic and Trevor Gillies over the last week-players taking an action on the ice, and paying the price for it-and an outraged call for more.  In the case of Gillies, the NHL came down on the wing.  In the case of Lucic, no action was taken.
That there is a constant need for supplemental discipline, and the expectation of the fan base that this will occur sets a dangerous precedent-and quite frankly puts the NHL in an awkward position as a brand.  The outrage-from real to contrived takes control of the game away from the refs and puts it in the hands of fans with the power to offer instant analysis loud and often-and unchecked.
The social matrix of the hockey community (and this is applicable beyond the rink) is altered by this powerful outcry.  The reality is there are outside pressures that come to bear on these decisions.  We are all happy Pacioretty is recovering.  I don't think anyone who watches hockey with regularity can say Chara saw the stanchion and knowingly took his man there-but the drum beat marches on.
About the Author: I've spent more than 10 years helping big media learn to embrace the great digital divide. One of my current focuses is how to integrate social media into the daily lexicon. In looking around there are people who do it well, and people who just don't. Its my goal to make sure we are all good at it.
Comments (4)