Al Rankin | Apr 18, 2010 | Comments 0

-By Dan Carcillo
Look, I know this looks bad, I've seen the replay too [Ed Note - Video Embedded Below]. While on the surface I may appear to be faking an injury you have my personal assurance no such subterfuge took place.
On ice I routinely ruminate on the complex social challenges that beset our nation. Oddly enough the brief moments subsequent a cross-check or facewash afford a clarity of mind unsurpassed during all other waking hours. In fact I'd been comparing, with growing anxiety, the precipitous drop in new teachers with the growing exodus of those currently in the profession.
Couple this with widespread budgetary cuts on both the state and federal level and you can begin to understand my momentary expression of dismay. The enormity of this particular struggle simply caused me to physically recoil in horror. I'll allow that the timing was unfortunate but surely a man cannot be condemned based on the harsh whims of coincidence?
If I'm guilty of ANYTHING it's caring too much about our schools and universities.
Eagerly anticipating your understanding and apology,
-Dan Carcillo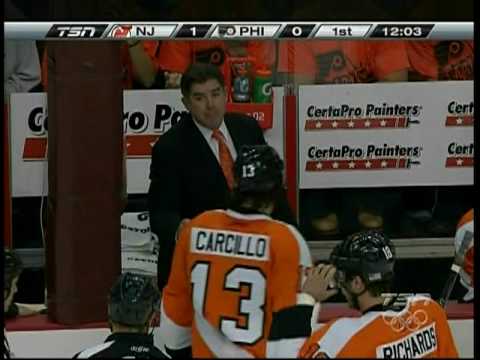 Filed Under: Featured • NHL • Philadelphia Flyers • Satire
About the Author: Al Rankin writes vicariously through others. You probably shouldn't trust what he says, although it's cool to lend him money, he's totally good for it. @Al_Rankin on Twitter
Comments (0)