Cris Cohen | Feb 13, 2013 | Comments 0
Forget about Chase and Foxwoods. Tuesday night's New York Rangers-Boston Bruins game should have been presented by Advil and Mylanta. Surely there were a lot of Rangers fans who could have used one or both of those remedies after watching what seemed like a sure win turn into an agita-inducing nailbiter.
The Rangers got off to a strong start. Midway through the first, Rick Nash got by Andrew Ference and, falling down, made a highlight-reel pass that Carl Hagelin put home to give the Rangers a 1-0 lead: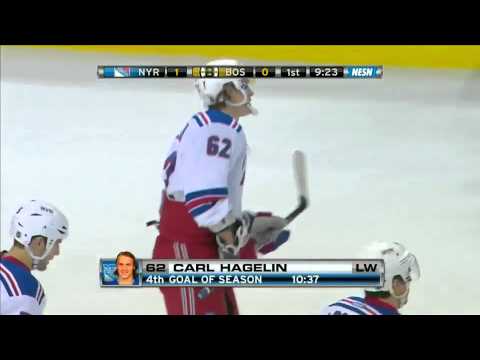 Ironically enough, moments after he made that play, news broke that Columbus Blue Jackets general manager Scott Howson was fired.
Like Hagelin, Derek Stepan is another one of those secondary scorers that the Rangers need to get going. Stepan would notch his second goal of the year, wristing the puck past Tuukka Rask from the left side to give the Rangers a 2-goal lead at 8:15 of the second period. Rask would give up a third goal early in the third period, this one off the blade of defenseman Anton Stralman.
Buoyed by the offense and goaltending, it looked like the Rangers would coast to victory.  Of course they couldn't make it that easy. David Krejci would spoil the shutout at 8:44 of the third period, one second after a hooking penalty on Nash expired. Then came those two goals in the final 91 seconds with Rask pulled. Nathan Horton would bring the Bruins within one, and then Brad Marchand would net the equalizer. Ecstasy on Legends Way became agonizing disbelief in New York living rooms.
It was hard not to think back to April 4th, 2011, when the Bruins built themselves a 3-goal lead on the Rangers before the Blueshirts scored five unanswered (two in the first, three in the third) to complete an unbelievable comeback. This time around, the team that blew the lead still managed to get the W.
A scoreless back-and-forth overtime gave way to a shootout, the first for the Rangers this year. Nash would be the first shooter to break through.  Marchand would answer in the third round to keep the Bruins alive. Ryan Callahan would have the eventual game winner, his goal holding up after Krejci failed to put it past Henrik Lundqvist.
Lundqvist had another strong performance, turning aside 37 of 40 shots in the game. He found a way after the two quick goals to collect himself and delivered not only in the extra five minutes, but in the shootout as well.
"It was frustrating, the last couple minutes of the game obviously. I think they key for me was just to focus on what I think going into the shootout. Even though I was frustrated when we were in that position it was still a big point to play for and I had to calm down and focus onthe things that I needed to focus and that was the biggest challenge for me."
It wasn't pretty on many levels. Once again the Rangers went a big 0-fer on their power play chances, including a 5-on-3 chance that began in the closing seconds of the second period and wrapped into the third. They are 29th in league with a 9.1% success rate. Yet again, for the sixth time in twelve games played, they have taken a too many men on the ice penalty. This time Stralman was the culprit.
Despite the late-game collapse, the lifeless power play and another line change brain cramp, coach John Tortorella acknowledged the positives, gave credit to the tenacious opponent and planned on using the game as a learning tool for his team, which slowly, but surely seems to be finding its way.
"Sure we talked about, we finally climbed above the five hundred mark and now we need to start getting better as a hockey team and keep trying to put some wins in here. And it's a good team we played against, it's a tough building to play in, we did some really good things, but we also have a lot of things especially situational play as far as protecting that lead. We were really good at it the other night, we were really good at it for most of the third period, but we died a little bit late. So we'll take the two points, but also teach."
With a quarter of the season now in the books, the Rangers sit in eighth place in the Eastern Conference heading into Wednesday night's games. They'll need to learn those lessons quickly if they want to move up in the standings.
 Stick tap to my Hockey Independent colleague Benjamin Woodward for his contribution to this post.
*********************************************************************
 "Like" Hockey Independent Rangers on Facebook
 Give me a follow on Twitter:  twitter.com/@CC_927.
Filed Under: Featured • New York Rangers
About the Author: Likes: Hockey, the New York Rangers, King Henrik, singing the Rangers goal song, "The Save", the sound skates make against ice, heckling Marty Brodeur. Dislikes: 3-point games, front-office mismanagement, Denis Potvin, overpriced arena beer. Interested? Follow me on Twitter: @CC_927
Comments (0)