Brendan LeComte | Sep 19, 2010 | Comments 1
BOSTON MA – The Boston Bruins' 2010 training camp continued Sunday morning with the second of two days open to the public at the TD Garden. The team's "Group B" took the ice first—led by goaltender Tuukka Rask—and continued where they left off, energetic and very physical.
For the second day of camp, the team ran an entirely different set of drills that seemed to be focused on conditioning and staying with the play.
Once again, to consolidate space and spare your brains, I will harp on the same format used in yesterday's drill-by-drill breakdown, starting with a description of the drill, followed by a player of the drill, and, if applicable, an admirable performance. Group B is listed first, as they skated first.
Drill #1
After a warm-up skate and a quick convening with head coach Claude Julien, Group B broke into two groups and headed to opposite corners of the rink. This drill started with the first player circling into the slot and taking a shot, followed by the second player circling out past the blue line, then heading back in on the net minder before both men rushed up ice, finally letting shots go on the opposite end.
Here is a clip of Jordan Caron performing the drill.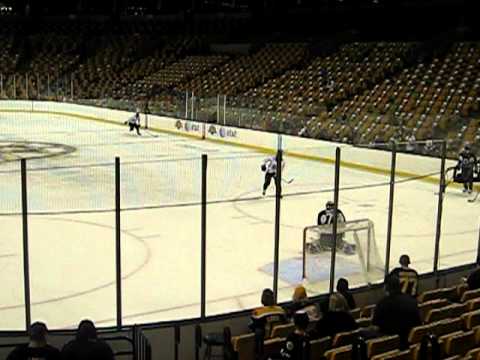 Group B – Player of the Drill: Milan Lucic
Lucic came out skating very hard, and as I said yesterday, his off-season training regimen seems to have done him well. Those hands of his seem to be majorly improved from last season, and he ripped a beautiful wrister top-shelf, glove side past Hutchinson, to which he received a nice "pop" from the crowd.
Group A – Player of the Drill: Jamie Arniel
The young forward certainly wasn't known to most of those in attendance, but he certainly put on quite the show. Arniel looks to have great speed in bursts, and has a knack for getting around defensemen. On top of that, he has a wonderful release on his shot that handcuffed Courchaine on more than one occasion.
Drill #2
The second drill was conventional: a two-man rush down each wing. The lead forward would head in with a second man to his side, and then as they split, a pass would be made across the slot for a quick shot. Once completed, the player who took the first shot would rotate back and become the passer on the opposite wing.
Here is a clip of Tyler Seguin (in white) performing the drill.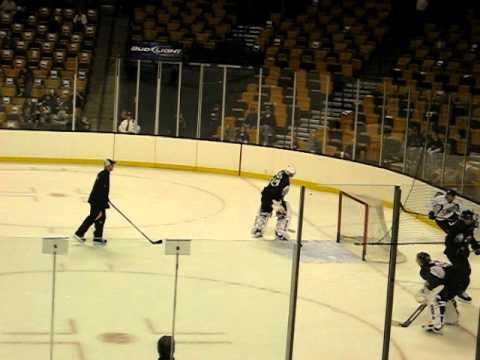 Group B – Player of the Drill: Patrice Bergeron
The 25-year-old center had a strong showing in this drill, especially when he was paired with Mark Recchi. The two have great chemistry, and it showed as Bergeron buried shot after shot into the back of net.
Group A – Player of the Drill: David Krejci
Krejci started out the drill with a wonderful five-hole goal as well as a great put back on a rebound given up by Schaefer. The Czech native seemed very strong on Sunday, and it looked as though his wrist recovery is coming along just fine.
Drill #3
After a short water break, the group broke out into a very complex, end-to-end, back-checking drill with one defenseman and a back checker going after a rushing forward.
Here is a clip of mainly Jordan Caron and Mark Stuart performing the drill.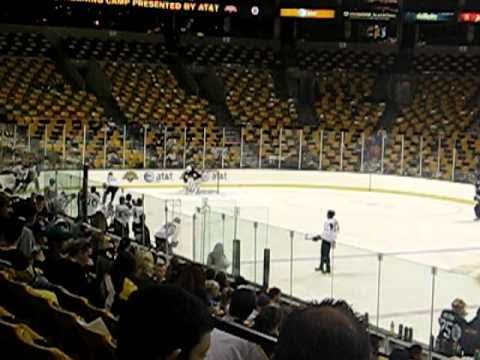 Group B – Player of the Drill: Max Sauvé
The young forward showed off his speed here and made his way through the neutral zone so quickly that the back checker became a complete non-factor.
Group B – Admirable Performance: Mark Stuart
The grizzled defenseman stood his ground in this drill; an absolute force, he never allowed the puck carrier to get past him, swatting away the puck each time he encountered it.
Group A – Player of the Drill: Blake Wheeler
After a strong showing in the first drill, the former Golden Gopher continued his string of success here. Skating harder than any other forward in the drill, "Wheels" used his size to his advantage as he drove through defensemen.
Drill #4
The fourth drill of the day began with a shot from the point by a defenseman with a forward in front of the net attempting a tip. After that, a second forward jumped in from the opposite half-board and put a shot on net before engaging in a two-man rush up ice against the original defender.
Here is a clip of Nathan Horton performing the drill.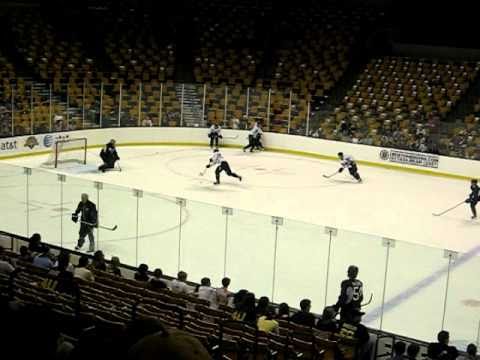 Group B – Player of the Drill: Jordan Caron
Arguably the most NHL-ready of the prospects in Bruins training camp this year, Caron was very good on Sunday, and even though it does not pertain to this particular drill, held his own down low in cycle. The Quebec native made a wonderful pass at the conclusion of this drill to Daniel Paille that resulted in a "slam dunk" goal.
Group A – Player of the Drill: Nathan Horton
The former Florida Panther absolutely oozes talent, and his creativity around the net is undeniable as he fooled Courchaine on two separate occasions (one instance shown in video above).
Drill #5
The final drill before intermission was a simple three-on-two, dump-and-chase drill, which, from the eyes in the stands, looked to be very physically demanding.
Here is a clip of the Lovecchio – Seguin – Recchi line performing the drill.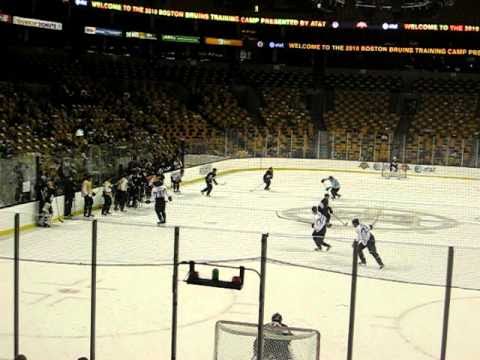 Group B – Player of the Drill: Patrice Bergeron
Continuing his earlier success, the veteran center was immaculate in this drill, executing perfect passes to his line-mates which resulted in a goal on more than one occasion.
Group A – Player of the Drill: Shawn Thornton
Quite obviously the vocal leader of Group A on the ice, Thornton had another impressive day of camp and completely took over his line (Wheeler–Arniel–Thornton) in this drill, and had each guy pushing for every inch.
Drill #6
After a quick cleaning of the ice surface, players returned to the ice for another breakout/back-checking drill with a line of forwards rushing up ice, trailed by two back checkers, as they headed into the offensive zone.
Here is a clip of the Thornton – Arniel – Wheeler line performing the drill.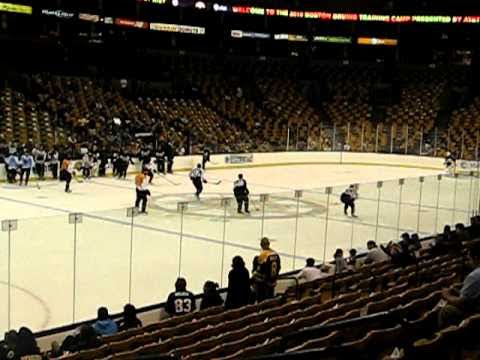 Group B – Line of the Drill: LoVecchio–Seguin–Recchi
While this drill isn't indicative of much, this line looked very good together once again, especially Tyler Seguin and Mark Recchi. If you don't think that Recchi taking Seguin under his wing is a big help, then you must be criminally insane.
Group B – Admirable Performance: Greg Campbell
The sleeper of the Wideman/Horton deal, Campbell was very impressive throughout the session and actually looks to be much quicker than I had previously thought.
Group A – Player of the Drill: Blake Wheeler
The oft-criticized winger looked solid yet again in this drill, and surprisingly his  main highlight was a terrific defensive play he made by picking off a cross-zone pass from the half-boards to the point.
Unfortunately, I was forced to leave due to the Sunday MBTA Commuter Rail schedule, and missed Group A's final two drills (7 and 8) so I have no coverage on them.
Drill #7
Next up was a three-man dump and retrieval which lead to a full rush back up ice against a full defense.
Unfortunately, my video for this drill was lost from my camera.
Group B – Line of the Drill: Paille–Bergeron–Caron
This line combo was very fluent over the weekend and it continued in this drill as they made seamless passes to advance through the defense and drive to the net.
Group B – Admirable Performance: Defensive Pairing of Seidenberg and Bartkowski
As far as defensive pairings go, it didn't get better than this. These two were textbook together all weekend long, and Bartkowski is always making the right decisions. The best is that when he does make a mistake, Seidenberg is there to bail him out, or Bartkowski takes advantage of his great bursts of speed in small spaces.
Drill #8
The final drill of the day was an obvious crowd favorite: a series of one-on-one, half-ice battle drills showcasing some spectacular talent.
Here is a clip of Tyler Seguin taking on Milan Lucic in the drill.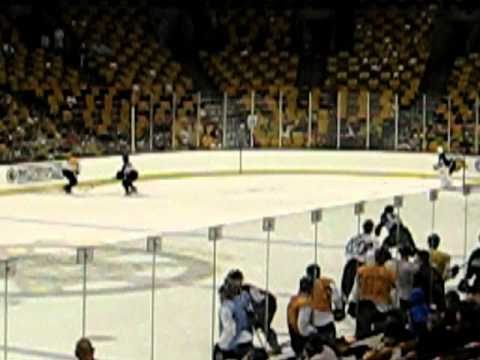 Group B – Player of the Drill: Tyler Seguin
After getting completely dominated in corner drills by Lucic yesterday, the second-overall pick beat Lucic clean on his first battle and ended up hitting the post on a backhander.
There you have it, the conclusion of a great weekend of Bruins hockey. Training camp continues throughout the week at Ristuccia Memorial Arena in Wilmington, MA. Keep in mind that these practices are NOT open to the public and anyone who travels there without credentials will not be allowed in (including me! Hah).
The club will have its first pre-season game Wednesday night at 7:00 p.m. in Montreal against the rival Canadiens. Unfortunately, I will be away on a natural studies trip in the White Mountains of New Hampshire until Friday. My Bruins coverage will continue when I return!
Follow Brendan on Twitter @TuukkaTime40
Connect with the Bruins HockeyIndependent page on Facebook!
Enjoy what you just read? Love it? Hate it? Let Brendan know! Give him some feedback by sending an email to: brendanlecomte@yahoo.com
Editor Credit – Sara Desharnais

Filed Under: NHL
About the Author: Brendan began filming, editing and producing the "TuukkaTime Bruins Game Recaps" on Youtube during the 2009-2010 NHL Season and has continued to do so since joining HockeyIndepedent as the Bruins Blogger. He has a strong passion for hockey jersey collecting (obsession) and is an excessive quoter of "It's Always Sunny In Philadelphia". Feel free to contact Brendan at any time via Facebook (http://www.facebook.com/?ref=logo#!/profile.php?id=534752905) or by email: brendanlecomte@yahoo.com
Comments (1)