Jeff Quirin | Feb 04, 2011 | Comments 1
The hockey drought in St. Louis ends Friday as the Blues (22-20-7, 51 Points) take on the Edmonton Oilers (15-27-8, 38 Points).
An Important Game & Big Returns
The Note's first game since January 26th comes at a critical juncture. A poor performance in January has earned the Blues a tie for 14th in the West. Now 8 points back of 8th place Phoenix the leapfrogging must begin. If it doesn't happen against the only team below them in the standings, it's not likely to happen at all.
Injuries have played a large role last month's slide and this seasons overall inconsistency. Good news came this week regarding two key veteran presences to the club.
Forward Andy McDonald returns after missing 24 games with a concussion sustained in the last game against the Oilers on December 4th, 2010. In 25 games the speedy attacker has 8 goals and 17 points. McDonald was averaging 19:56 ATOI, but don't expect that type of ice time in his first game back.
Defenseman Barret Jackman has been hampered by a groin injury since the 4-3 OT loss to Detroit on January 20th. Causing the gritty team leader on the blue line to miss the three games leading up to the All Star Break.
The two combine for 1,084 games of NHL experience. Don't think that the young lineup hasn't missed their presence. The proof is in the Win/Loss differential. The Blues went 10-11-3 without McDonald and 0-0-3 without Jackman.
On The Mend
Three have returned, but two regulars are still out of the lineup.
Defenseman Carlo Colaiacovo has been out since January 18th with an eye injury. According to Jeremy Rutherford of the St. Louis Post Dispatch, Cola "escaped a career-threatening injury" and "lost his vision in his left eye for about five days". He has resumed skating, but there is no timetable for his return.
Forward David Perron is still on his road to recovery from a concussion. Sustained on November 4th, Perron has missed 39 games. Last month he was cleared for light work outs and Andy Strickland reported that some weight training has been added to his rehab effort.
Erik Johnson nearly joined the injured list when he took a puck to the mouth at practice earlier this week. While working on the power play a deflection by McDonald struck EJ. Though three teeth lighter, he will not miss a game. He has a smile that Big Walt would be proud of.
Fight Card
The Blues are tied with the Anaheim Ducks with 49 fighting majors for tops in the NHL. The Oilers are 13th with 31.
The last scrap was between AHL callup Stefan Della Rovere and Colin Fraser.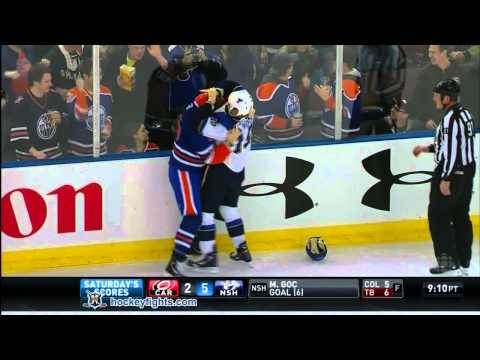 They did have six battles in 2009-10 though. Expect some fireworks to get the home crowd in to the game.
Know the Oil
The Oilers may be at the bottom of the standings, but can be an exciting team to watch.
Dustin Penner is having a solid season. Leading the club with 16 goals and 32 points in 50 games. Top pick at the 2010 draft Taylor Hall is hot on Penner's heels. Tallying 16 goals and 31 points in 50 games. Offensive catalyst Ales Hemsky has brought his 9 goals and 29 points in 33 games back to the lineup.
Magnus Paajarvi and Linus Omark are highly skilled young wingers capable of making plays and finishing scoring chances.
One of their young scoring dynamo's was going to be out of the lineup. Canadian Junior hero Jordan Eberle had out with an ankle injury, but will return for tonight's game. He was on the shelf along with Forward Gilbert Brule (Upper-Body) and top defenseman Ryan Whitney (Knee). Eberle and Brule are listed as day to day and Whitney is out for the season. Prior to injury Whitney was logging 25+ minutes a night with 25 assists and 27 points through 35 games.
Nik Khabibulin still covers the crease, just not as well as he used to. He is 8-23-2 with a 3.44 GAA and .891 save percentage. Though it appears Devan Dubnyk may start. In 17 games he is 5-6-4 with a 2.76 GAA and .916 save percentage. He has taken points in three of his last four starts. Winning two and taking another to OT.
Blues Lineup
With McDonald's return the lines will be altered some for certain. How much is not yet known. As reports come in I'll update the blog.
Jaroslav Halak was the expected starter per Louie Korac. However, he is out with an upper body injury. Ty Conklin will start and Ben Bishop has been recalled from the Peoria Rivermen.
Lineup Update: Per Lou Korac here are the lines and pairings.
Andy McDonal – David Backes – Brad Boyes
Alex Steen – Patrik Berglund – TJ Oshie
Vladimir Sobotka – Jay McClement – Matt D'Agostini
Brad Winchester – BJ Crombeen – Cam Janssen
Barret Jackman – Alex Pietrangelo
Eric Brewer – Erik Johnson
Nikita Nikitin – Roman Polak
-
As always, you are invited to follow @618_STLBlues and @BlueNoteZone on Twitter and on the BlueNoteZone Facebook Fan Page for in game updates and Blues news. Please also check out the St. Louis Blues Blogs Facebook Fan Page for links to Blues blogs all over the Internet.
Filed Under: Edmonton Oilers • NHL • St. Louis Blues • Western Conference
About the Author: Bleeding Blue from the IL side of the Mississippi, I've been a Blues fan since I can remember seeing the Blues take on the Oilers at the Arena when I was about 5. All I remember is that Brett Hull scored and I was hooked. Now I cheer on the likes of David Backes and TJ Oshie. It's a great time to be a Blues fan as this team rebuilds itself.
Comments (1)